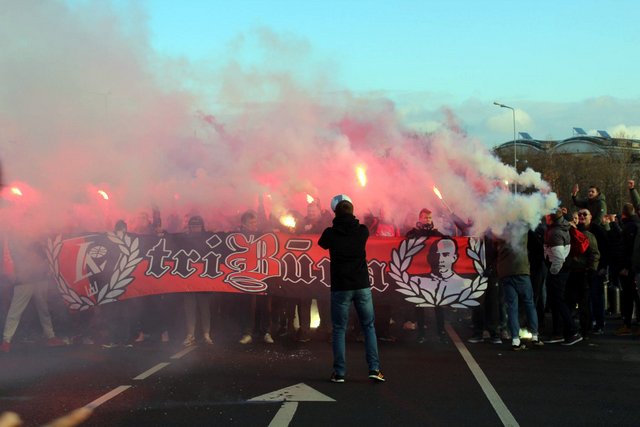 Lithuania: Impressive away support at basket match!
One of our forum members sent us a match report from Zalgiris vs Lietuvos Rytas (basketball). Great support for away game in basketball.
Here is his report:
Our group is named B Tribūna, (Ultras of basketball club Lietuvos Rytas) from Vilnius. Us and Zalgiris Vilnius football ultras are the biggest ultra groups in the country. On December 8th we have celebrated our 19th birthday of the movement. All players of the team came to our pub, we had a quiz about our movement and the club, and players participated in it. On Saturday we organized a basketball 3x3 tournament where 15 teams participated.

Sunday, December 10th, was the big day, until this day the biggest number of ultras in away game there were around 250. We have managed to gather 500 people. For more than a month we were advertising our trip, we filmed clips with our team players, who were inviting people to go to this game. Also, we have made special invitations for old members of the group, for some who now live abroad, so some people came specially for this game from England, Ireland, Sweden, Poland.
Also, even Lithuania scene is not big, but there are some regulations/repressions, we had to communicate with Kaunas club a lot that they would let megaphone and chores inside the arena. They still didn't let us bring sticks for waving flags....

Also, this was the game against Zalgiris Kaunas, our biggest rival, this game is the biggest rivalry in all Lithuania sports.

We made the trip by train to Kaunas (just around 100 km) from our city Vilnius. We created a special t-shirts for this event and everyone who went to away got the shirt.

In Kaunas we walked in corteo to the arena and near it had a little "Ajax style entrada". This was so unseen and uncommon in Lithuania that biggest media groups started doing a live broadcast in their websites and etc...They are always the first to write shit about ultras after conflict, but this time they were putting it in a positive way.

We were near arena 3 hours before the game, and 1 hour before we were already inside making support. Arena DJ thought that it would be a good idea to silence us by letting music louder, but he failed, cus we were louder than music. Zalgiris active fan sector had about 100 people, at the beginning of the game they had some strobos. We had a choreo which said "We are with Rytas for 19 years" "Time passes - loyalty stays, Rytas Ultras - for centuries" and the year of the start of our movement (1998). All the game we ruled the arena, and after all players gave everything and won first time in 3 years at Kaunas. Ofc, we had a big party.
Photos: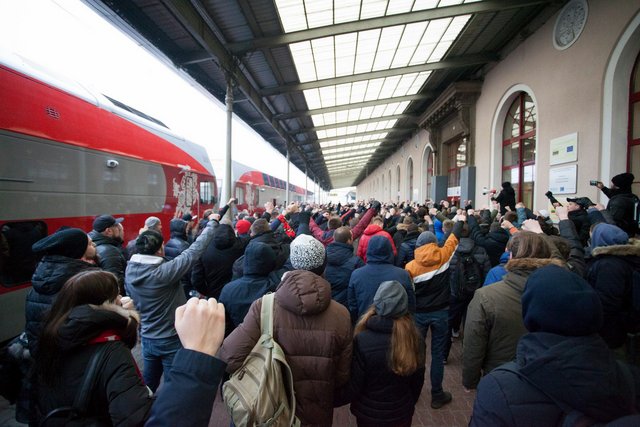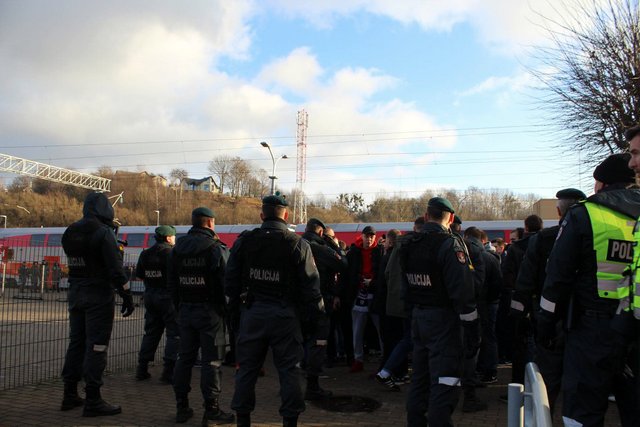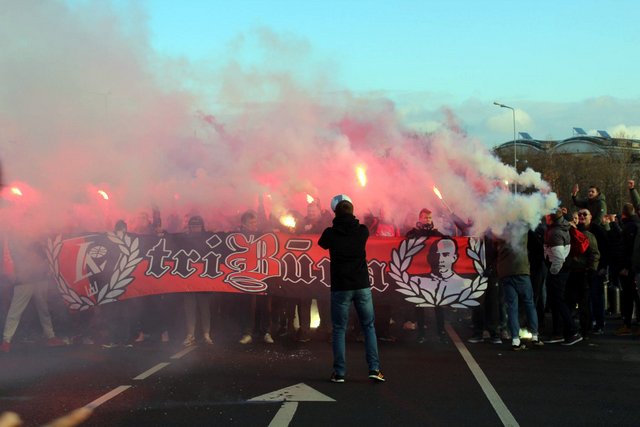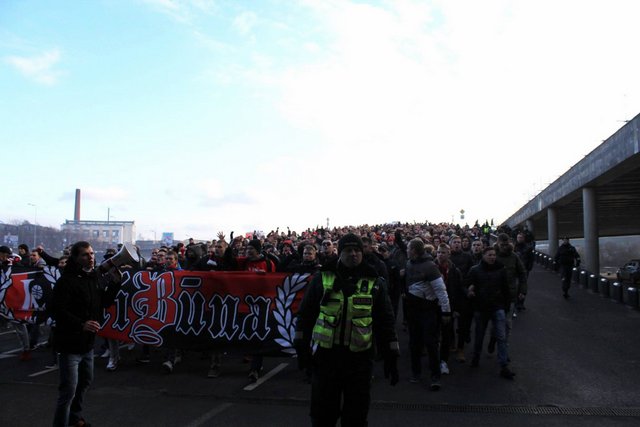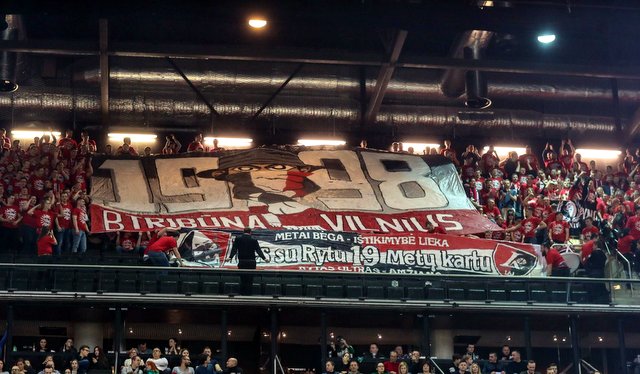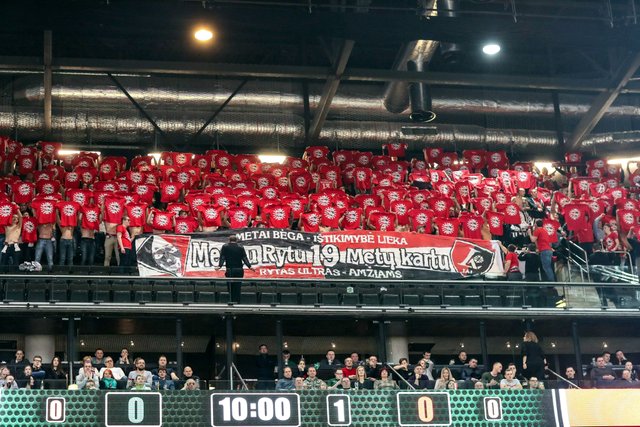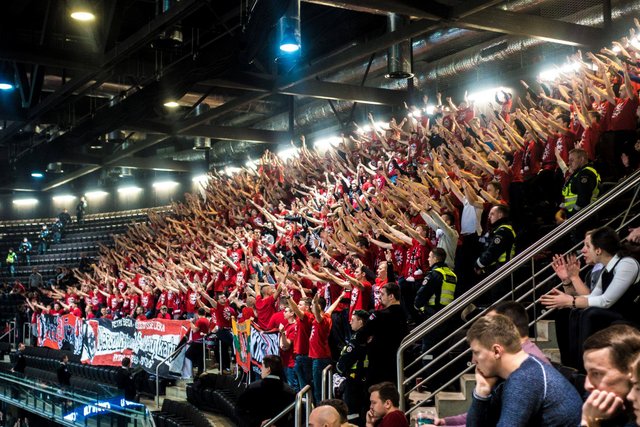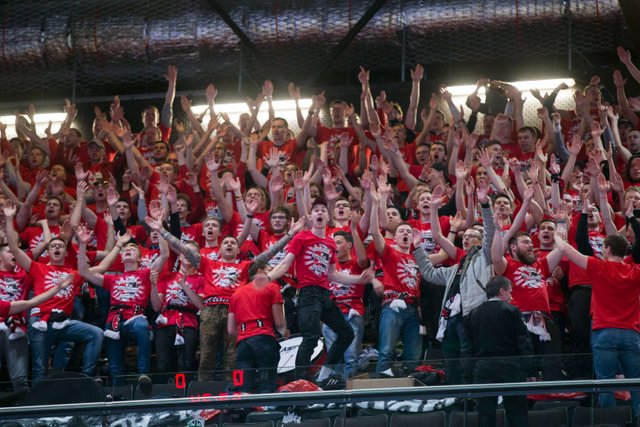 VIDEOS:
Source: B Tribuna