Germany: The majority of the 36 professional clubs accepted the new rules.

Germany: The majority of the 36 professional clubs accepted the new rules.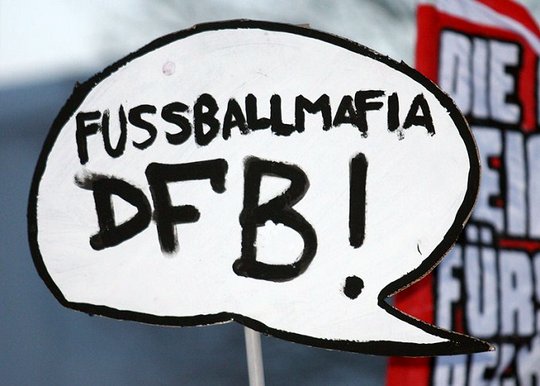 Huge scandal in German football!
Earlier this month we wrote about the protest "12:12 Without voices - no atmosphere".
In short, all clubs in the two top leagues of German football had to vote for or against a document made by DFL (Deutsche Fußball Liga).
The meeting took place today, 12th December. Surprisingly the majority of the 36 football clubs accepted the concept of 16 new rules. This will definitely infect the German supporter scene, as the whole point with this concept is to resolve the violence problem at German football (which rarely exist inside stadiums!).
For the last 3 rounds of football nearly all German groups stood together against this concept. They were silent first 12:12 minutes of every match, organized huge protest marches before matches and displayed many banners and choreography's against DFL and their new ideas.
Some of the new rules:
- Half the number of guest tickets at "high risk" games (All games with at least two relevant ultras groups inside the stadium).
- Tents for body inspection in front of the stadiums ( = less pyro)
- Less standing areas, more seats.
+ a few more ideas to marginalize Ultras on the stand.
We will be back with more specific information about the new rules when we get it, we will also hope to find a list which show what clubs agreed with this concept.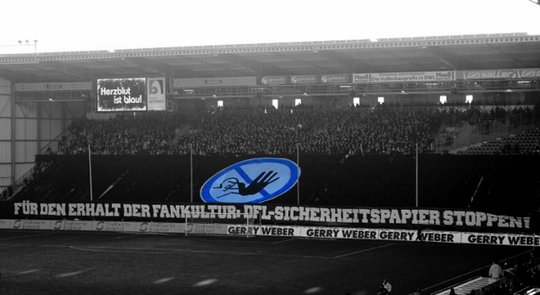 (Here is supporters of Arminia Bielefeld protesting)
Links:
- Earlier article about this protest.
- Forum topic that show most of the demonstrations by all groups.
- Dynamo Dresden with big march and choreography.
- FC Nurnberg supporters protesting.
AGAINST MODERN FOOTBALL!