Photos and info of Italian clubs from A - Z.
Photos and info of Italian clubs from A - Z.
We continue with info and photos of Italians clubs and groups. Letter B.
All information is written by our forum member "via armenia 5r".
Bari:
Big city in South Italy, this club played in serie A and B for the last 30 years. They played in old stadium "Della Vittoria" until the 90's world cup in Italy when the bigger "San Nicola" was built.
Historic Group:  Ultras Curva Nord, born in '76.
They have historic friendships with Reggina and Salernitana, and more. Recently also with Sampdoria.
Biggest enemy are the locals Lecce, Taranto and Foggia, then Napoli and many Others.
Barletta:
Small city near Bari, club's Golden age was at the end of the 80's when they played 4 seasons in serie B ,now they are in 3rd level.
In 1995 they financial problems and had to play in 7th division. In 2008 they were back in professional leagues.
Historic Groups are Gruppo Erotico and CUCS, both founded in '87.
Friendships with Andria ,Catanzaro, Austria Salzburg and good relation with Bari.
Local enemies are Foggia, Taranto, Lecce ,Brindisi, Monopoli and more.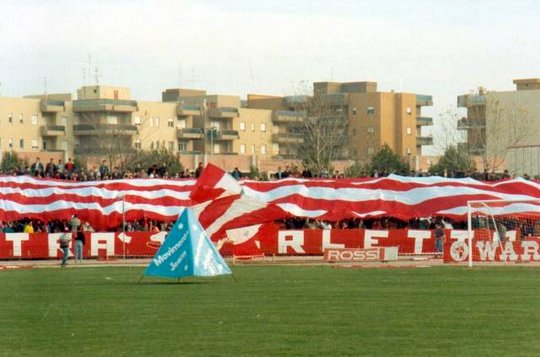 Battipagliese:
Smaller city near Salerno. In the 90's they had their best football period, now playing in 5th division.
Historic Group is Hell's Rebels, founded in '85.
Friendships with Angri and Matera, local derby against Ebolitana.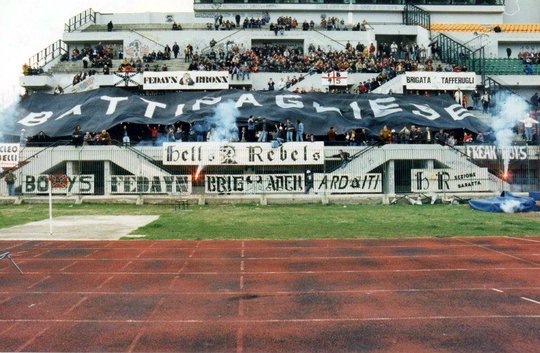 Benevento:
City in Naples region ,never came higher than 3rd level of football where they are playing since the 80's.
South stand is the home of their ultras, now divided in three different Sectors.
They have a big friendship with Savoia and local derby against Avellino, Nocerina, Casertana and Cavese.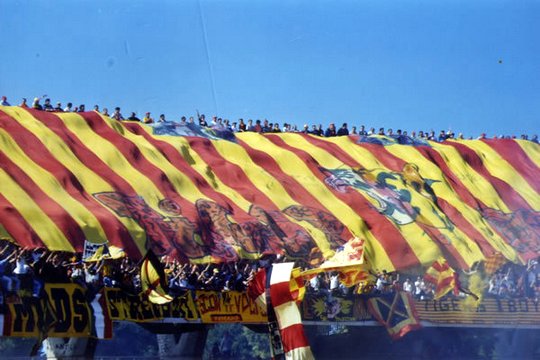 Bologna:
Big city and big club!
7 times Italian champions + 2 cup titles.
They also played two years in 3rd level after they failed in '93.
In 98/99 they reached the UEFA cup semifinal but lost against Olympique Marseille.
Historic groups are Forever Ultras and Mods (now called Beata Gioventu').
Once they were friends with Milan and Roma but both ended bad, now there is only group friendship with Ravenna and Bochum (Forever Ultras-Freak Boys) and Siena, Nocerina (Beata Gioventu').
Biggest enemies are Fiorentina, Cesena, Parma, Juventus, Modena, Torino, Genoa, Napoli and Sampdoria.
"Mods" is a famous right-wing group, while "Forever Ultras and Freak Boys" are leftist.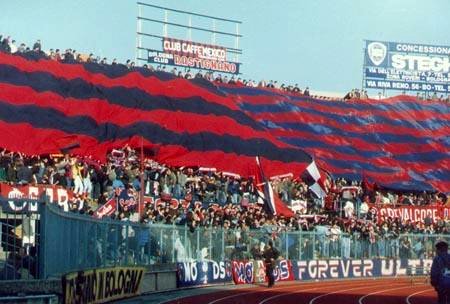 Brescia:
City between Milan and Verona in the north of Italy.
This club is the most present in serie B division (55 times).
In the 2000/01 season they finished at 7th place in serie A and lost the Intertoto cup final against PSG.
Historic Group "Ultras" was founded in '79 ,but nothing to do with nowadays. Ultras Curva Nord born in the last years after a division between own fans.
They are friends with Milan, Cesena, Salernitana, Mantova and Catanzaro. The group "Brescia 1911" is also friends with Magic Fans from Saint-Etienne.
Derby against Atalanta is one of the best in Italy, hate at the highest level.
Other rivals are Verona, Inter, Roma, Lazio, Genoa, Napoli,and more.
Brescia 1911 are apolitical while Curva nord are more right wing and have tessera.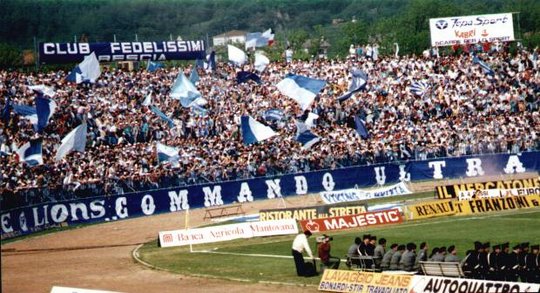 Brindisi:
City in front of Albania, south Italy. They played 4 years in serie b in the 70's.
Now after two bad times during last ten years they are playing in 5th division.
Main Group "Teenager Korps" born in '88 is still alive, while groups such as Ultras (1990), Ghetto (1985) and Gioventu (1985) ended their activity.
Historic friendship with Foligno since 1985.
Local rivals are Barletta, Monopoli, Andria (from Bari zone), Lecce and Foggia.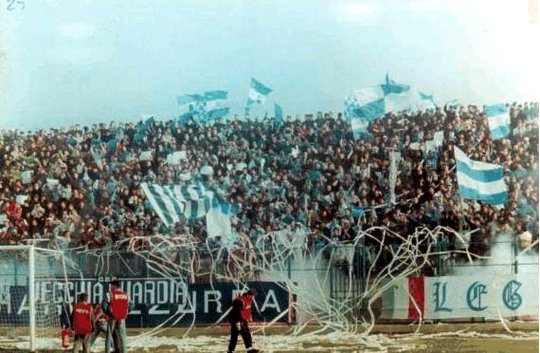 Bisceglie:
Another small city near Bari. They played in 4th level between '87 and '97, now they are in 5th division ,came back last season after 15 years in local leagues.
Friendship with Lanciano and Andria, local rivals are Trani, Molfetta and Fasano.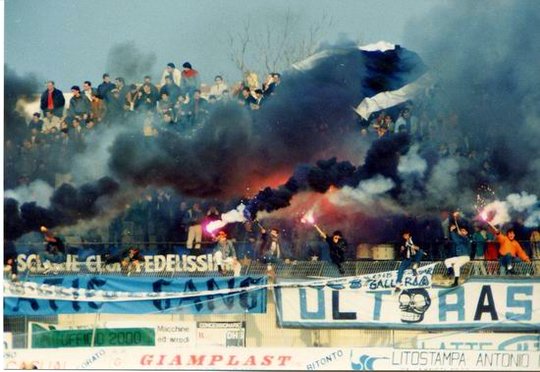 Bra:
Town near Cuneo, northwest Italy.
They really have a small scene and club, but this year they play in 4th division.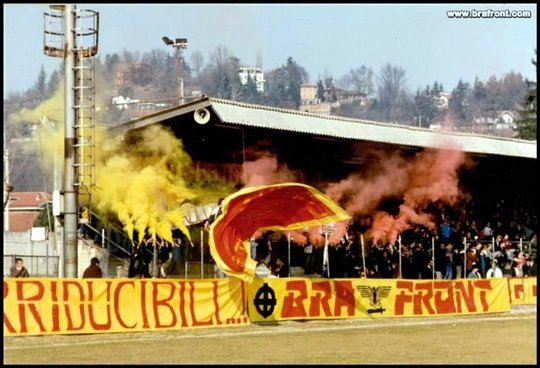 Click here for Italian clubs starting wth: A