50 gifts just for you!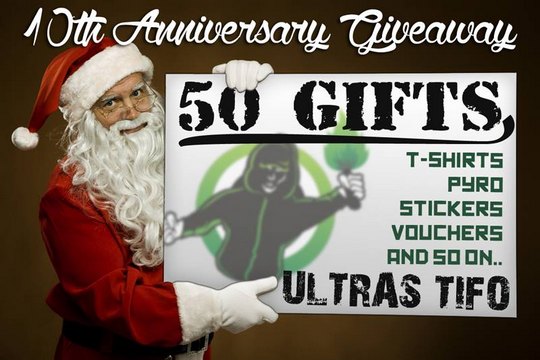 As you probably know, this month (24th December) we celebrate our 10th anniversary. We started celebration with party in Budapest for our crew and friends, and now it's time to make something for you!
Starting tomorrow (special date 13.12) we prepared 50 cool gifts for you! Follow our Facebook fan page because we'll post there every day at least one gift! To win prize you'll just need to like and comment on photo, then we'll randomly choose winner.
Thanks to our partners we prepared some very cool gifts like pyro, Adidas originals sneakers, t-shirts, stickers, calendars, hats...
Thanks to: PgWear, Ultras Shop, LANISTA, BrandShop, Ultras-Europe, FanaticStuff, Terraces Menswear, Ultras-Piro