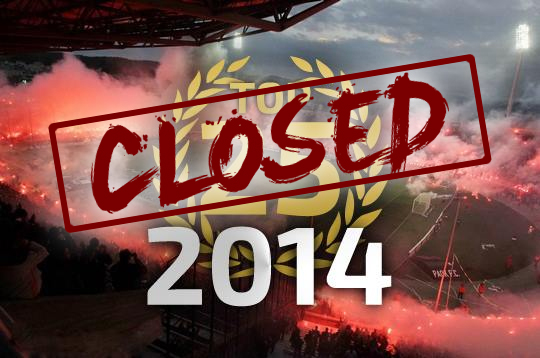 Final result & explanation
We made article for the Top 25 TIFO actions in 2014. Of course, there were many more really great tifo's out of those 25.
All the 25 tifo actions, along with all the rest are example of how innovative and creative ultras are. All of these actions are winners for us.
The poll we made was just for fun. Winning this vote doesn't prove or show anything, because after all - who are we to tell "This one is better than all the others"?
We decided there would be no "winner".
Dinamo Bucharest got 400 script votes in the very first hours of our poll, we deleted them and the voting continued. Last 24 hours we got thousands of script votes, both for Dinamo and Wydad, so we had to close this vote few hours before the time we scheduled It is strange for us why some people acted like it's a matter of life and death to win this vote.
We are sorry for the ruined poll, and we will think best of how to make next year's poll better. Until then, we would like to congrats everyone in and outside our top 25, also to say sorry to Raja Casablanca fans for totally missing one of their tifo's with the joker and the cards.
Top 10 voted (including script votes)
- Wydad Casablanca - 34% - 72865 votes
- Dinamo Bucharest - 30% - 65389 votes
- Brondby - 5% - 10784 votes
- PAOK - 4% - 8025 votes
- Porto - 4% - 7720 votes
- Levski - 3% - 6571 votes
- Legia - 3% - 6382 votes
- Hammarby - 3% - 5992 votes
- Wisla Krakow - 2% - 4670 votes
- Eintracht Frankfurt - 2% - 4166 votes