Best worldwide TIFO actions in 2014.
Best worldwide TIFO actions in 2014.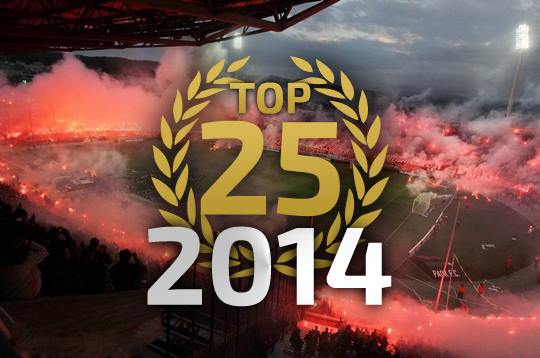 Another impressive year by Ultras and football fanatics all over the world!
In 2014 we published more than 950 articles on Ultras-Tifo.net. Out of those articles we tried our best to find the 25 best TIFO actions.
As usual it was very difficult for us to choose only 25 TIFO actions as many groups keep a very high level on their choreographies.
We tried to choose TIFO actions which is original and creative. Something we are sure supporters worked many hours with to prepare. Difficulty of the choreography is also important, as well as the final result of the show!
The poll - You vote for the best show!
Poll is open till Saturday (Jan 10th) 14:00 CET



The poll is over! Official results and explanation soon in new article.
Top 25 TIFO actions in 2014

(Sorted by date, oldest first. Click on picture for full report from each match)
Video with clips from all of the 25 TIFO actions: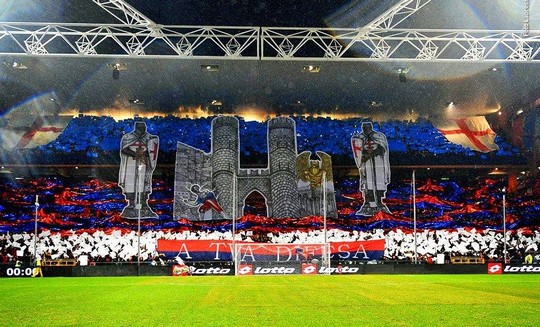 This show by Genoa include flags, card display, very detailed paintings, stripes and pyrotechnics. Very good combination of everything in this choreography!
On tribune on the long side they also raised 3 huge banners.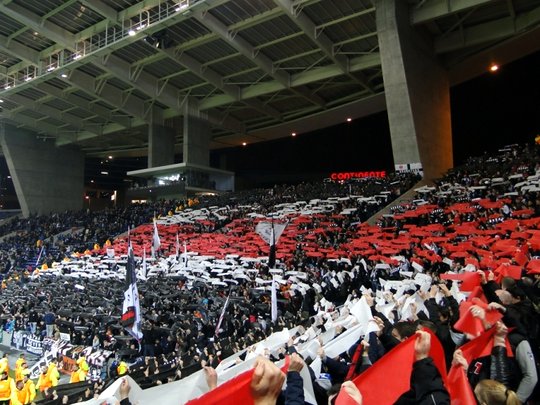 Very impressive show by Frankfurt supporters!
The choreo itself is not very difficult, but the combination with pyro in Europa League match is great. The best part is they managed to bring around 8000 German fans to Portugal for this match with a distance of 2100km! This is an incredible demonstration of how to support your team.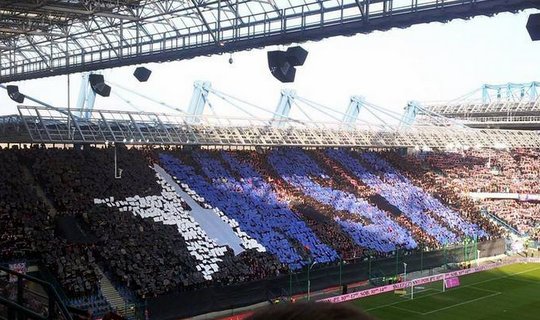 Wisla fans with 4 different choreos. First they had double card displays followed by ponchos. Later one nice painted banner + pyro.
The smart messages is the best part of this show:
PDW- means "Pozdrowienia do więzienia" which in Poland means greetings to prison. Most of polish groups have a banner like
this on their matches. That's a tribute for the imprisoned friends.
WSH- means "Wisła Sharks Hooligans"- Wisla fans nickname is sharks.
AJ- mean "Anti Jude"- fans of Cracovia are known in Poland as Jews."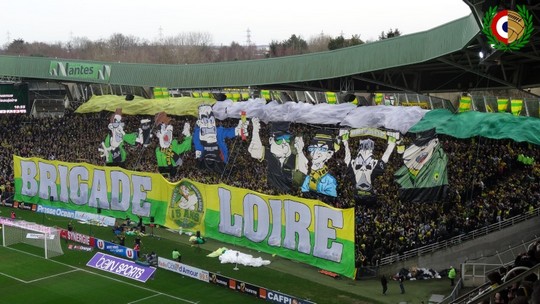 Ultras of Nantes had many great shows in 2014. The best was definitely on the derby against Rennes, where Brigade Loire also celebrated their 15th anniversary.
Tifo on all 4 stands. Stripes, banners, card display, confetti, pyro and 3D banners.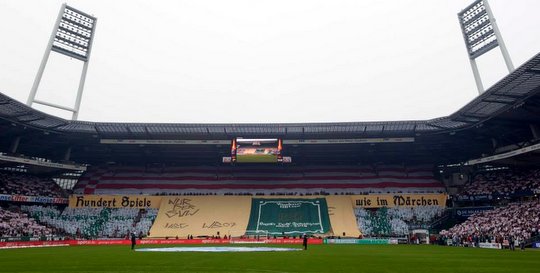 This choreography exist of two-stick flags and many different banners.
Everything is nicely painted and look perfect. It took nearly 10 minutes to display the whole choreography!
Later in the match Bremen fans had a pyro show, just to make it even better.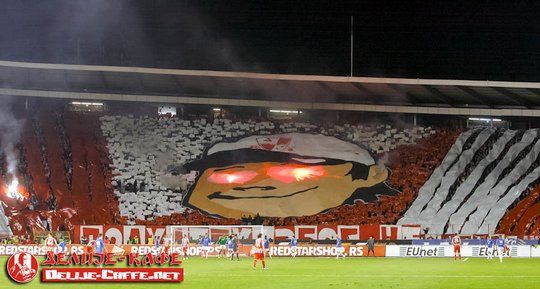 Another fantastic year by Delije, fans of Serbian club Crvena Zvezda.
In this match they started with a lot of smokebombs. Later choreography. Pay attention to the main banner which is not square, but cut out around the figure. Bonus with red flares in "his" eyes.
In the 69th minute they had a new big pyro show!

Tifo show on all tribunes by Austria Wien fans. In the supporter sector they had two different choreographies + one huge banner!
When the big banner went down, everybody under it had put on white ponchos.
Austria Wien fans made it perfect with the pyro show.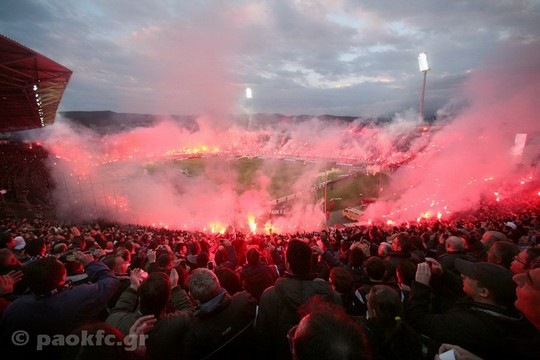 Among the craziest pyro shows in 2014!
No big flags, card displays or advanced choreography. This is PAOK style.
It's not easy to organize flares like this "everywhere" in the stadium.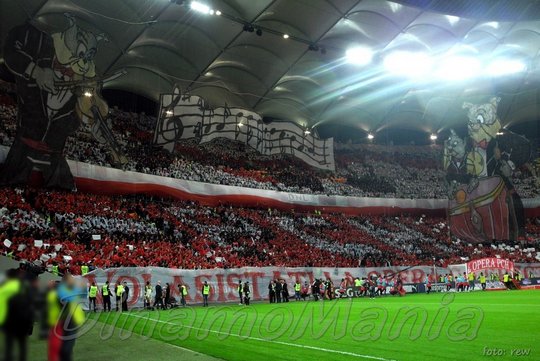 The game was postponed for 10 minutes, to show the choreography. On the field, in front of the curva, there was an orchestra that played the music of Maurice Ravel- Bolero.
In the lower sector, everybody wore ponchos with PCH and took up and down card boards, which changed PCH with FCD. In the upper sector, there were ponchos, that showed the musical lines. The 3D figures represented two dogs playing music, and in the middle, the upper figure, represented the melody line of one of our songs, "Dinamo! Dinamo!".
The message was " in the stadiums symphony, we were always composers, and you assist the opera as spectators.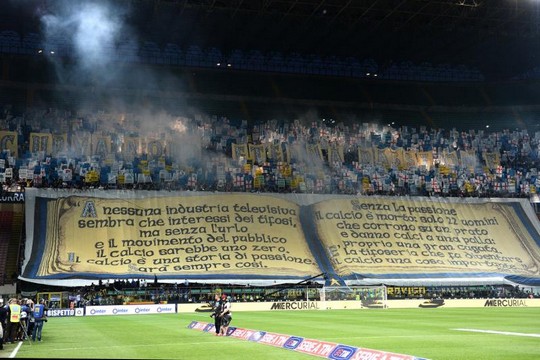 Very nice choreography by Inter fans.
Probably took a lot of time to make those two-stick flags. The main banner also looks great and have a very good message:
"No TV organization is interested in what the fans want but without the shouting and movement of the people football is nothing. The history
of football lies in passion. And it will always be like this.
Without the passion football is dead: only 22 men on a field kicking a ball around. Basically complete bullshit.
It's the supporters who make football something important."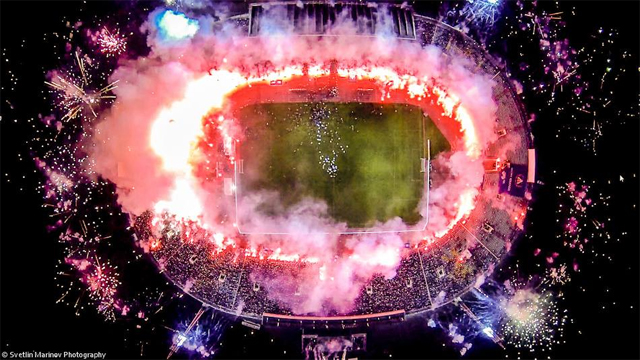 Ultras of Levski Sofia organized a friendly match against Lazio for the 100th anniversary party of the club.
Choreography on all stands and a second show in the Ultras sector with ponchos which formed the number "100".
In the end of the match they had a massive pyro show!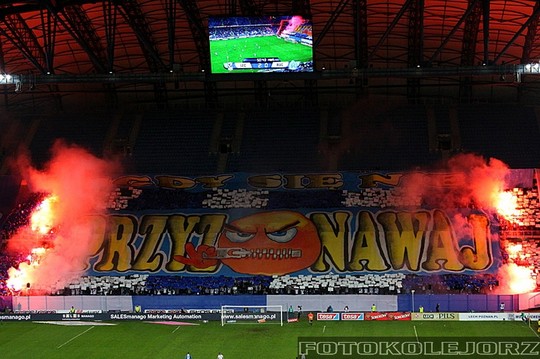 Very "clean" and nice choreography by Lech Poznan. Two banners, card display and flares.
Everything is painted very nice.
The first banner means:  "Never give up", and the second  "Never own up".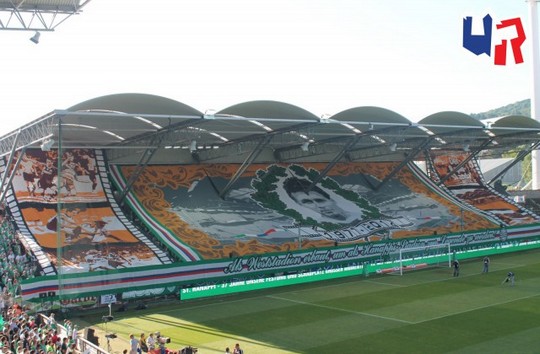 Where to start? Rapid Wien organized a friendly match for the last match on famous Gerhard-Hanappi-Stadion.
Fans displayed many different choreographies during the game. First one exist of very advanced paintings and the banners on the side "roll" like a movie (they change pictures).
Small plastic fans on all stands, with logo especially for this match. Also an advanced choreography in another ultras sector which include many different shows.
Several smaller and bigger pyro shows during the match as well. See video in the article to fully understand and see everything the ultras display in this match!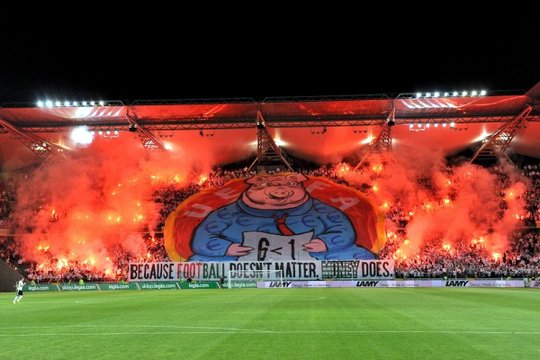 Best part here is definitely the message to UEFA: "UEFA - Because football doesn't matter, Money does".
UEFA disqualified Legia after the 6-1 win against Celtic, because of a small mistake.
The choreography looks very nice as well with the combination of flares around the main banner.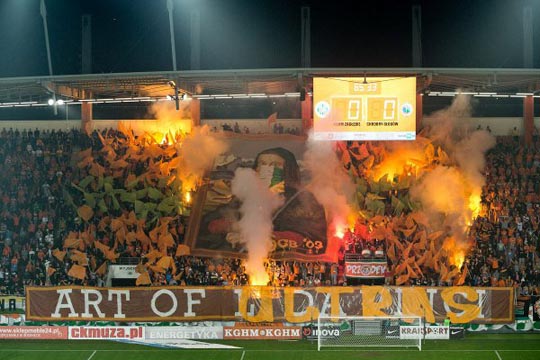 Very cool show by Zaglebie Lubin from Poland. Not a very big or detailed tifo, but the message is very original and creative.
"Art of L. Da Vinci"
"Art of ULTRAS"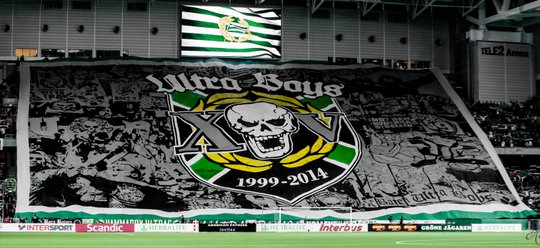 15th anniversary of Ultra Boys.
Match started with a huge banner. Very nice paintings and lot of details on the banner. Another huge banner came up, when it went down Hammarby fans started a massive smoke show.
In second-half they had another pyro show.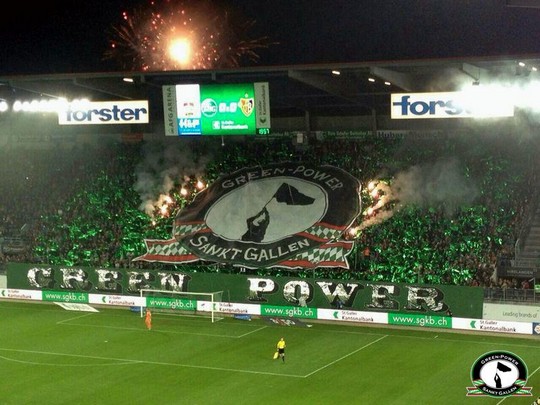 10th anniversary of ultras group "Green Power".
First choreography looks very nice. Great to see the combination with white flares together with rest of the show.
Next choreo is a huge banner with many details. Last choreo is chaos with flags, streamers and lot of pyro!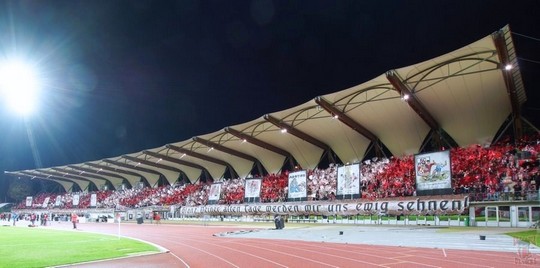 Fans of FC Rot-Weiß Erfurt (German 3rd league) said goodbye to their stadium "Steigerwaldstadion" on a spectacular way!
Choreography all around the stadium with banners, flags, stripes and pyro. Lot of work behind this show and fantastic to see this in the lower divisions.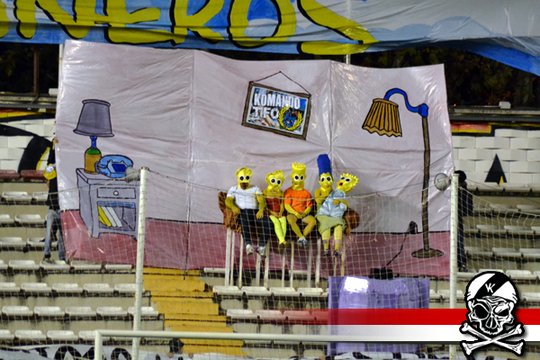 Fans of Rayo (Spain) made a protest against modern football with a Simpson show.
With match on a Monday they closed the Ultras sector and made this very original protest.
You need to watch the article to fully understand and see everything from this show.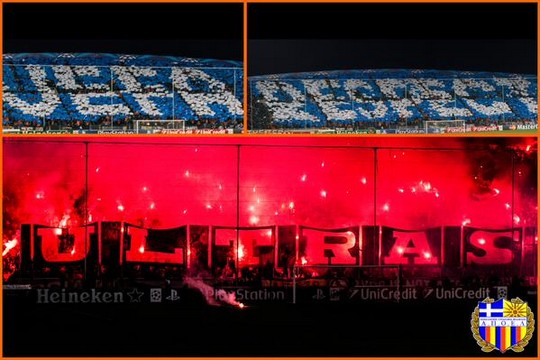 "UEFA - Respect - ULTRAS"
Double card display, first "UEFA", then "Respect". Next APOEL Ultras raise a banner with "ULTRAS" written and fans light flares all over the ultras sector.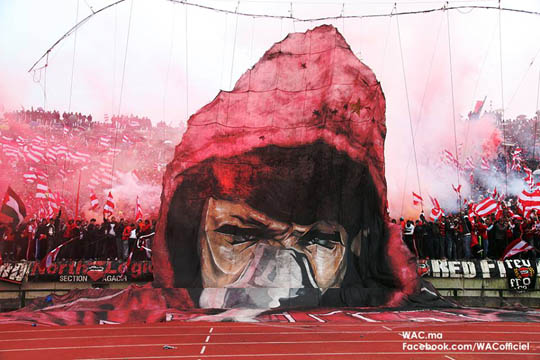 The derby of Casablanca in Morocco is always interesting.
This time we fans of Wydad had a very good show. First one card display, then it changed to a new card display with 3D figures.
Last show is flags, pyro and a new 3D figure raised.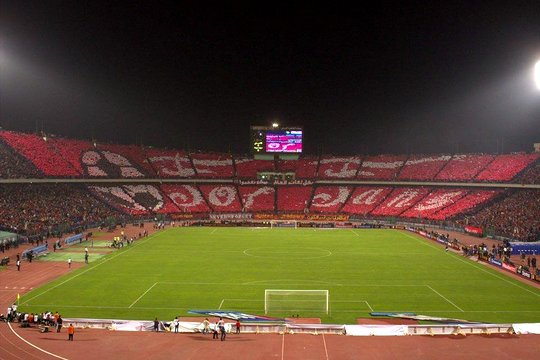 7 different card displays which show "Football for fans" written in 7 different languages.
This was the first time in 10 months fans of Al Ahly could attend a match in their stadium, therefore a very important message.
Rest of the match they had a lot of pyro!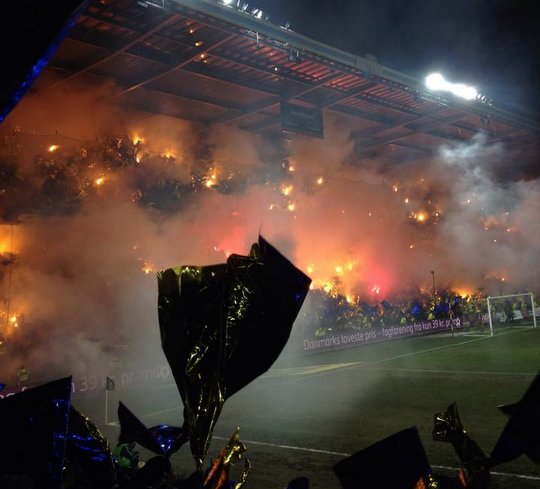 Choreography on all 4 stands, huge banners and a perfect pyro show.
Nice paintings on the banners and many smooth details in this show.
Congratulation to fans of Brøndby with their 50th anniversary!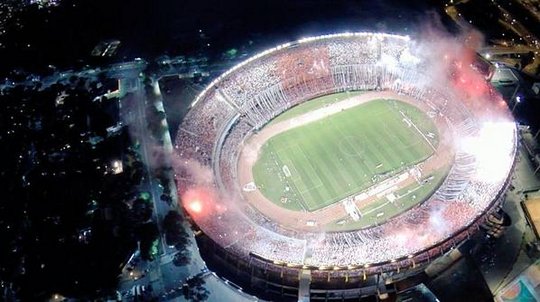 More than 60 000 River Plate fans took part in this amazing atmosphere in the final of Copa Sudamericana.
Stripes, flags, balloons and tons of pyro was used to create these scene at El Monumental stadium.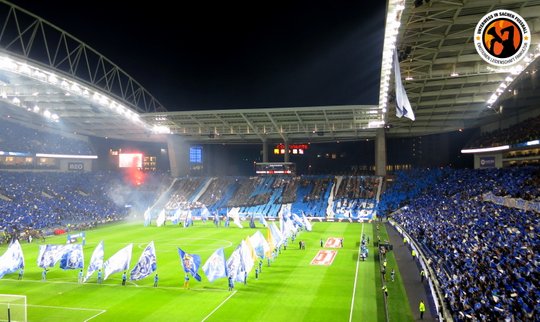 Porto fans with tifo on all tribunes. Card display on both long sides, vertical stripes and banner behind one goal, flags and pyro in one corner and horizontal stripes behind the last goal. Stripes with "ULTRAS" written looks very nice!
YOU vote for the best TIFO action in 2014!