Turkey: Capo received money after promoting car company with a choreography!
Turkey: Capo received money after promoting car company with a choreography!
Shameful action in Turkey and Bursaspor played against Besiktas this month. As you probably know Turkish supporters stand united in the protest against the "Passolig" ticket-system which got introduced in Turkey in 2014. Attendance on matches in the top divisions of Turkish football dropped dramatically as supporters only attend youth-matches or matches in the amateur league.
But capos (fan leaders) of Bursaspor decided to not protest against the ticket system. To make it even worse they displayed a choreography advertising for a FIAT Egea when they played against Besiktas. Sponsored choreography which have nothing to do with their club or the match. In return it's said FIAT payed Bursaspor 150 000 Turkish Lira (~50 000 EUR), 120 000 Lira to the club and rest of the money to the capos.
When fans in the stand noticed what the choreo was about they managed to get it removed quickly.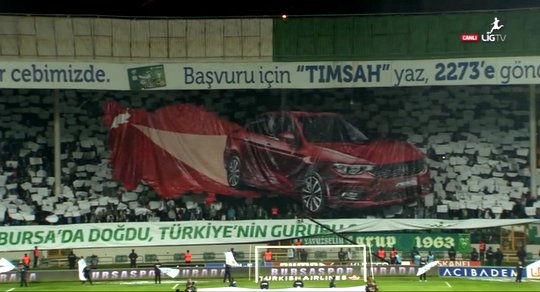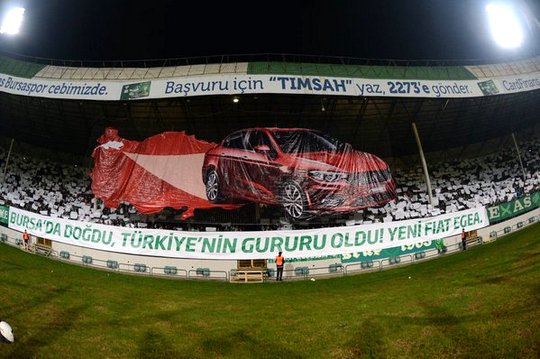 It's worth to mention there is a small group of Bursaspor fans who still protest against the "passolig" ticket-system. Instead of attending the top match against Besiktas, they went to support their U21 players instead.
Later they displayed a banner in the city against the embarrassing choreo made by the fan leaders of Bursaspor.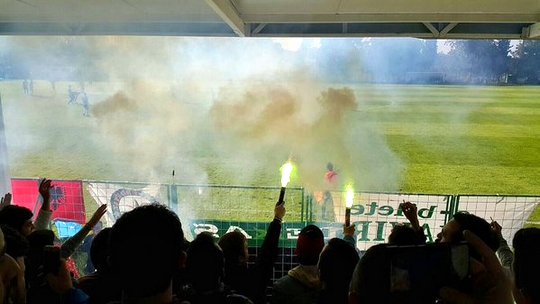 Latest news on "passolig"
Turkey's top court ruled on Thursday to reject an application against the Passolig electronic ticketing system which critics say alienated would-spectators at football games.
The Constitution Court's decision that the e-ticketing system for football matches, Passolig, does not violate rights has stirred a debate on future attendance of top level games in Turkey.
The court returned a demand by Tarafder, the joint association of fans of different clubs, on abolishment of the e-ticket practice, which they argue is against civil rights and have played a large role in the fall of attendance at football games.

However, another criticism of Passolig, which is basically a certificate-like card that all match-goers must get to buy e-tickets, was over the protection of personal data. However, the Constitution Court also ruled that a regulation item, which allows the clubs share or partly share e-ticket information with third parties, should be cancelled.

A particular lender, Aktifbank, sells Passolig cards to fans.

Cem Cihan, the lawyer of Tarafder, told Hürriyet that the court ruling means an end to Passolig.

"The Constitution Court has ruled that the right to sell e-tickets cannot be sold to third parties," he said.

"Thus, only the clubs themselves will be authorized to sell e-tickets at the entrance of the stadiums," he said.
Source: www.hurriyetdailynews.com