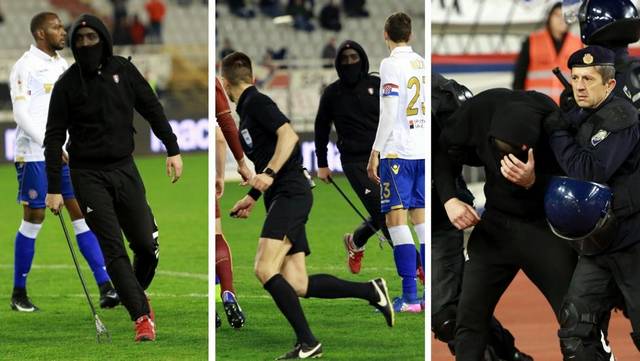 Croatia: Unbelievable big fine for young Hajduk supporter.
Hajduk Split supporter D.M. (22), who invaded the pitch during the Adriatic derby earlier this month, was sentenced with unbeliveable 105 day behind the bars!
Let's remind. In the second half of the match, after one weird penalty kick for Rijeka, he run on the pitch, took a stick that firefighters use to pick up pyro, and with threatening gestures went in referee's direction. Referee run, but the fan didn't chase him, just walked away from the pitch and peacefully waited the police to arrest him. You can watch video HERE.
With first 15 days in remand jail, he got 15 days more there, what is maximum for any kind of misdemeanor in Croatia.
He was punished for:
1: 25 days for hiding his face (identity) on the football match
2: 30 days for invading the pitch
3: 25 days for taking a stick as a object suitable to hurt someone
4: 25 days for disturbing public order by chasing a referee
Total: 105 days behind the bars. For what? Running on the pitch during the match... And ofcourse, he got 2 years stadium ban.
In the explanation of the sentence its written that he disgraced City of Split, Republic of Croatia, FC Hajduk and "real fans", upset the general public, caused material and non-material damage to Hajduk, and made particularly serious offenses.
This judgment is precedent in Croatian legal system.
READ ALSO: Croatian ultras jailed for flares and fight in Saint Etienne
People that do real criminal offenses, cause serious bodily injury, steal big money... get much less fines. But, ultras always get "special treatment".
LIBERTA PER GLI ULTRAS!