After 13 months of boycott, BBB (Dinamo Zagreb fans) are back on stands!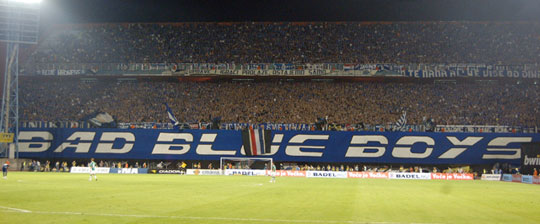 In the beginning of season 2010/2011, Bad Blue Boys (Dinamo Zagreb fans) started full boycott of all home and away matches. Reasons why they were in boycott can you read in this article.

Now, 13 months later they stopped boycott and continue their protest from the stands. But only on stadiums in Croatia. They will still boycott Champions league matches.

Zdravko Mamić, "executive vice-president" of Dinamo, and also the most powerful man in Croatian football is still in Dinamo.  So the main demand of BBB is still unfulfilled. Only thing that change on good after BBB went to boycott,  is that club started working on marketing, stopped selling best players, so this season they managed to enter again in Champions League after 12 years waiting.

In the statement they published today on their official web site www.badblueboys.hr they explain reasons why the boycott stopped.

Bad Blue Boys want to continue their fight for fair and clear club from the stands. During boycott BBB and other Dinamo fans did many legal actions which were showing how Dinamo administration (headed by Zdravko Mamić) violets the law. But all Croatian institutions ignored that. That just show how powerful this man is.

Reason why they won't go on Champion league matches is "prostitution" of club reputation in qualification with ticket price. For every home match ticket price was 1kn (13 cents). In those matches stadium was full (35 000) with clown fans. In Croatian league with normal ticket prices and not attractive opponents, average attendance was only 1000.  Also they want to show that they are back because of Dinamo and fight from the stands, not because club will play in Champions league after 12 years.

We hope that Bad Blue Boys will have more success in their fight against football mafia and for fair Dinamo from the stands, than they have during this boycott. Also we hope that this boycott helped them to clear group from problems they had last few seasons and reunited them.

First match for BBB after boycott will be 10th September in Split on big Croatian derby Hajduk - Dinamo.


AGAINST MODERN FOOTBALL!!