Last weekend Mamić and BBB hold a meeting.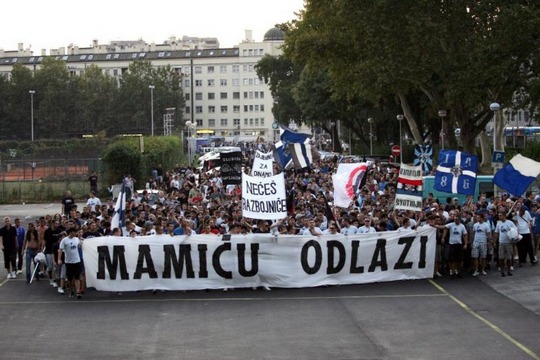 On last weekend secret meeting between Zdravko and Zoran Mamić (brothers who control Dinamo Zagreb) and Bad Blue Boys, they once again tried to buy BBB with money, what BBB rejected of course.
They want to destroy only opposition they have and continue with dictatorial leadership of the club.
They offered BBB positions in club marketing, percent of sold ticked, running security service on north tribune, removing cameras and net, removing vouchers and black list, giving freedom to BBB in jail... This just show one more time that Mamić controls everything in Croatian football and that police stand behind him.
United ultras in Croatia are last opposition to football mafia and they want to control them, but good luck with that.
Official BBB statement about this meeting: www.badblueboys.hr/nema-prodaje-nema-predaje/
AGAINST FOOTBALL MAFIA. Support to Bad Blue Boys. NO SURRENDER!