Photos and info of Italian clubs from A - Z.
Photos and info of Italian clubs from A - Z.
Very many Italians club starting with "C" letter.
We have been asked to date the pictures we add. Not always easy, but we will try.
Cagliari:
Historic club supported by almost all Sardinia people and immigrants, they won one title in 1969/70, first time for a smaller city.
First groups were Eagles and Ultra', than in the 80's born Sconvolts (in '87, still active and one of the most respected in Italy) and Furiosi (ended in 2003 after many fights with Sconvolts).
No more official friendship after the end of relation with Foggia.
Big hate with Sassari Torres (the 2nd biggest club of Sardinia), Napoli, Milan and Genoa.
Apolitical stand, in the past some right-wing Group like Vecchie facce, Bunker skin and also Furiosi.
They have a big problem about stadium, because football federation ask for better safety conditions, team have to play their matches in Trieste.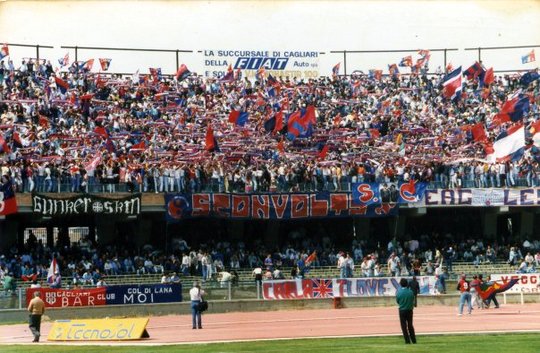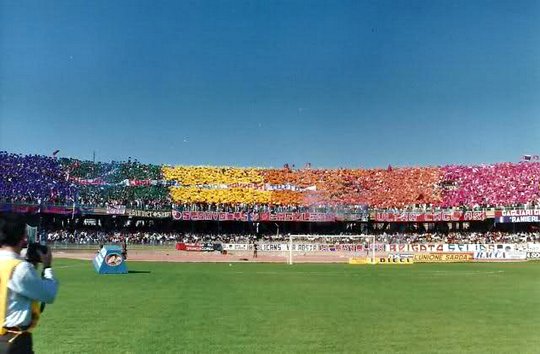 (Cagliari - Reggina 89/90)
Campobasso:
Small city in South Italy, they played 5 years in serie B in the 80's.
After they failed in 1990 club always played in local leagues, now they are in 6th level of Italian football.
First Group was Commando Ultra' born in '81 and Smoked heads in '86, both still present.
Friendship with Fasano and local rivalry with Isernia, Termoli, Pescara.
Left-wing, at least the main Group.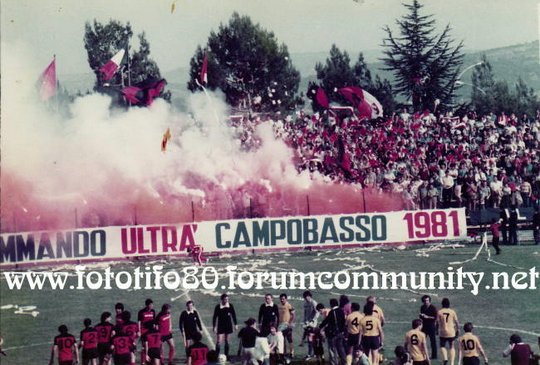 Carpi:
Little town near Modena ,in the 90's they played Always in 3rd level and last year they were promoted to serie B for the first time.
Main Group are Mucchio Selvaggio born in '89 and still active but oldest group was Panthers in '79.
Modena is the biggest enemy ,so good relation with Reggiana.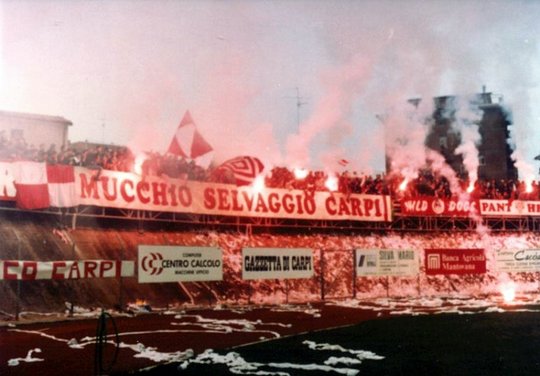 Carrarese:
The city of Marble in Tuscany (but people from Carrara speaks different dialect and don't call them Tuscanians). As a club they played almost ever season in 3rd or 4th division, like now.
Historic group is CUIT (Commando Ultra' Indian Trips) founded in '79.
Friendships with Pisa, Reggiana and Spal.
Big local derby with Massese and Spezia.
Left-wing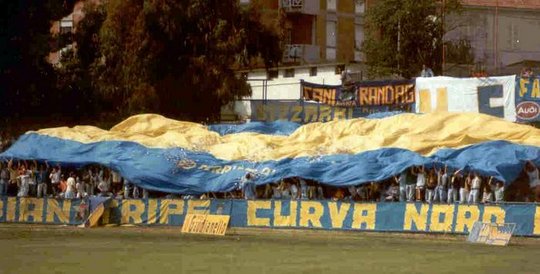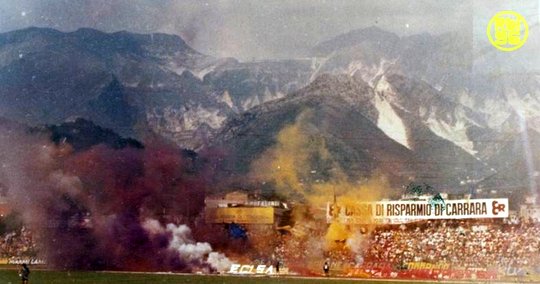 (Carrarese - Alessandria 80/81)
Casale:
City in Piemonte, North Italy. Big history because they won a title in 1913/14.
Last seasons they played in 4th level but this year they are playing in 7th division, the worst level of their history.
First Group was Commando ultra' in '73 but most important is Boys, founded in '88.
Local derby against Alessandria and Pro Vercelli.
Right-wing
Casarano:
Small town near Lecce, pretty famous because they played 17 years in a row in 3rd level around the 80's and the 90's.
Since the '99 they played in local leagues and this season in 6th division.
First and historic group is CUSP (Commando Ultra' Sao Paulo), founded in 1980.
Friendship with Cosenza and many local rivalries with Lecce, Brindisi ,Barletta, Monopoli, Gallipoli and so on.
Right-wing now,they follow also national team games.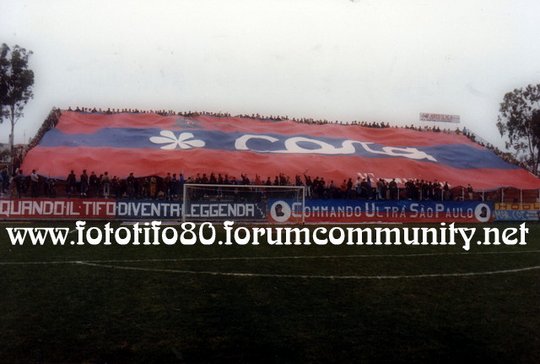 (Casarano - Palermo 84/85)
Casertana:
City near Naples, they played only twice in serie b, season 70/71 and 91/92.
Since 1997 they have been playing in local leagues, this season they play in 4th level.
Historic group and still active is Fedayn Bronx, founded in '81.
Friendship with Cosenza, Ternana, Avellino and Cassino.
Bigger local rivals are Salernitana, Benevento and Nocerina.
Left-wing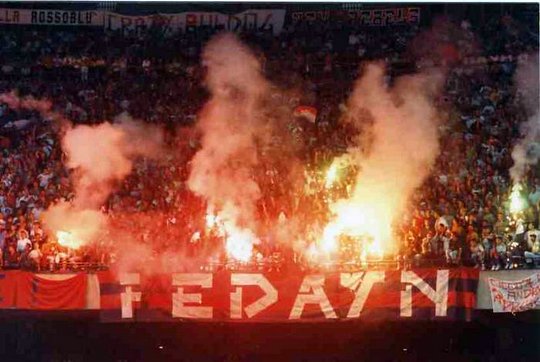 (Casertana - Inter 91/92)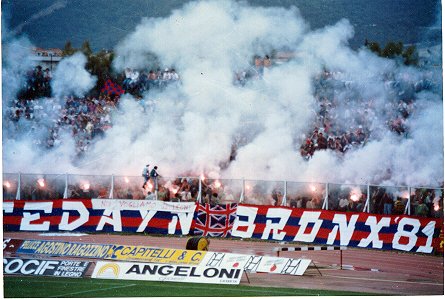 Cassino:
Small city between Rome and Naples, this cub played in 4th division at their best.
In 2010 after a failure ,Ultras restarted the club and are now playing in 7th division.
Main group are Fedayn, founded in 1977.
Friendship with Venafro and Casertana, while the local derbies are against Formia, Sora, Frosinone and Isola Liri.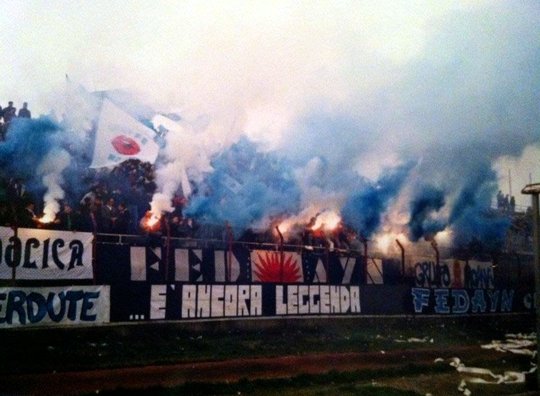 Castel di Sangro:
The smallest town club ever played in serie B, two years between '96 and '98.
Last season in pro-League was 2005, after that club got financial problems and no longer exist.
Ultras Group born in '96 and was named Commando Ultra' Curva Nord.
Friendship with Lodigiani, the third club of Rome.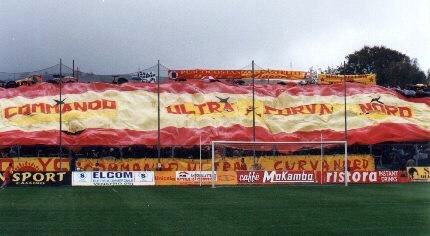 Catania:
Big city in Sicily. This club came back in serie A in 2006 after many years in lower leagues.
Before 2007 derby game with Palermo there was big riots outside stadium and one cop got killed.
They had to play the whole season in neutral field and without any audience...
Historic groups: Falange D'assalto (1979), located in North stand, while in 1991 Irriducibili were founded and still active in South stand.
hey don't have anymore official friendships but good relation with Naples (Curva A), Genoa (5r and BS), Parma, Triestina,T rapani and recently Borussia Dortmund.
Biggest enemy is Palermo, derby of Sicily between these two clubs always include lot of hate and trouble.
Other rivals are Messina, Reggina, Taranto, Salernitana, Roma, Verona, Pescara, Siracusa and Atalanta.
Right-wing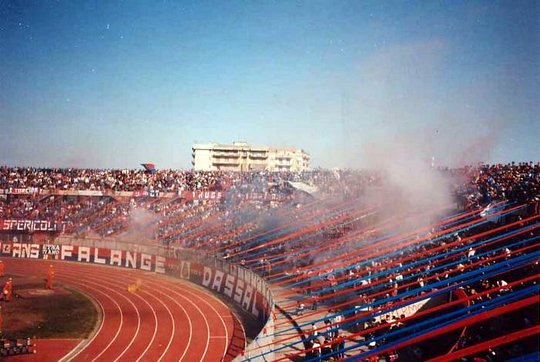 (Catania - Palermo in 1989)
Catanzaro:
City in South Italy. Their best moment between '78 and '83, when they played 5 seasons in serie A, first club of their region in the first division. Now they are in 3rd level.
Historic and main group, still present, is "Ultras" founded in '73 and very respected.
Friendship with Fiorentina, Barletta, Brescia (Curva Nord) and good relation with Nocerina, Reggina, Olbia and Sampdoria.
Big and very famous local derby against Cosenza, their biggest enemy.
Other rivalsl are Crotone and Vigor Lamezia in this region, and Catania, Taranto, Messina and Foggia.
Right-wing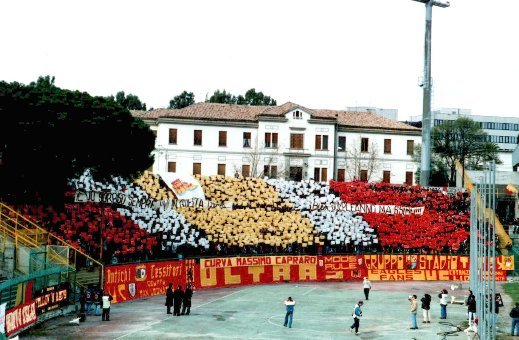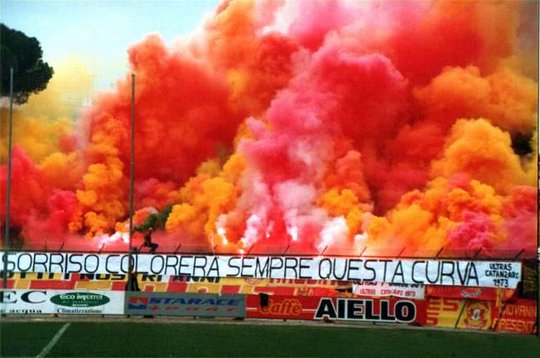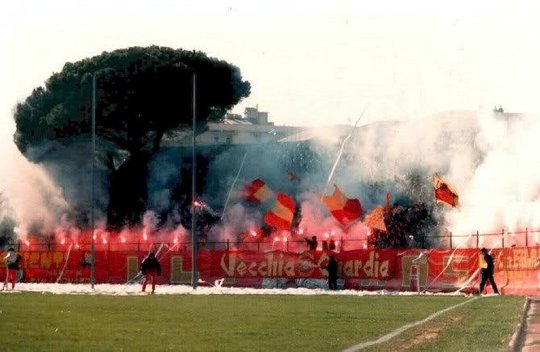 (Catanzaro - Reggina 89/90)
Cavese:
City near Salerno. In the 80's they played three times in serie B and also won against Milan in San Siro. In 2010 club got problems and are now playing in 5th division.
Historic groups born in the 70's were Falange d'assalto and Wanderer, they united in 1984 to "Ultra Cava". Another group is Nucleo mods, founded in 1988 and still active.
Friendship with Messina.
Many local rivalries, biggest one against Salernitana, also Nocerina, Savoia, Casertana, Taranto, ecc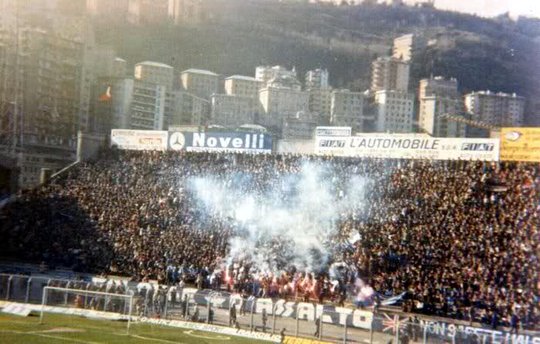 (Away match against Samp, 82/83)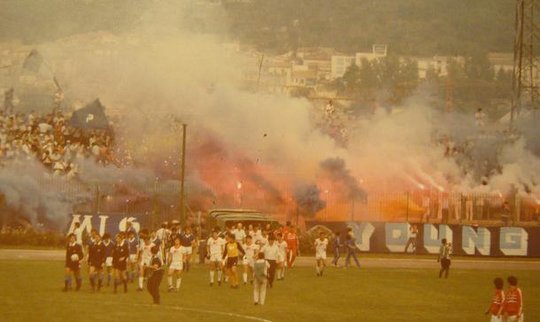 (Cavese - Varese, unknown year)
Cecina:
Small town near Livorno, golden period of this club was between the 80's and the 90's when they played in 4th division. Now they are in 8th division.
First ultras Group born in '81 named Brigate, then in '89 "Gioventu' Rossoblù" were founded. They are still active (see photo below).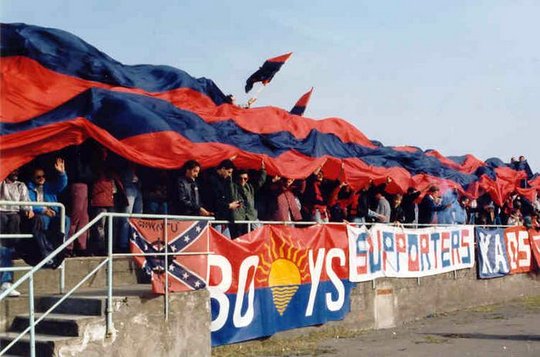 (Cecina - Casale 88/89)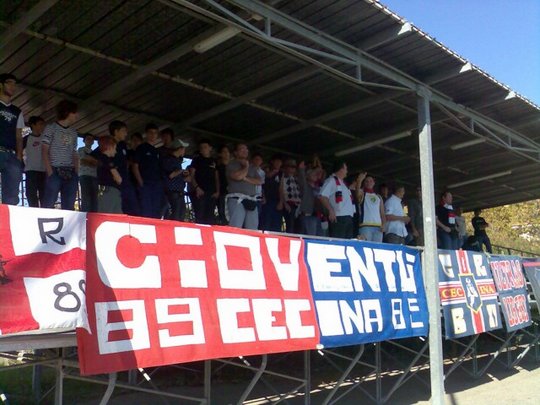 (Cecina - Forcoli 2007/2008)
Centese:
Little city near Ferrara, they played in 3rd level in the 80's for some seasons, now they are in 6th division.
Historic group was Indians, founded in the 80's.
Friendship with Bologna and local rivalry with SPAL (Ferrara's club).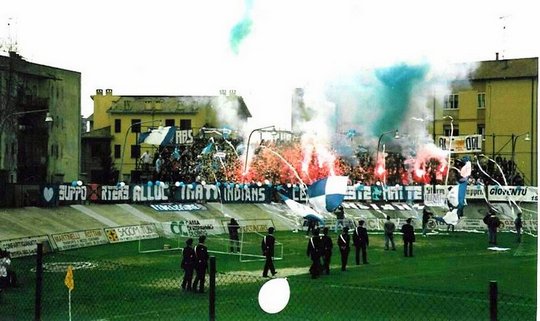 (Centese - Spal 89/90)
Cerignola:
City near Foggia, south of Italy. They never came than 5th division.l Since 2000 they was playing in local leagues but this year there is not even a football team in the city.
Main Group was born in '84 and called "Ultras".
Friendship with Ebolitana and local derbies with Manfredonia, Fasano and Molfetta.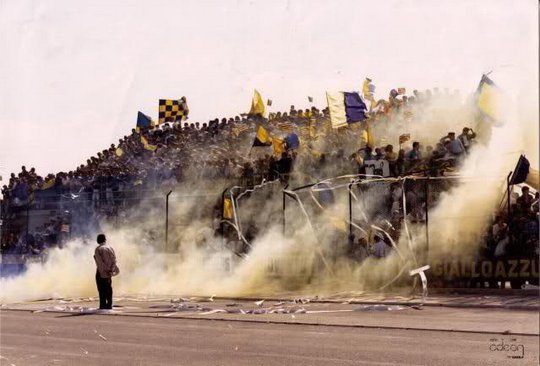 (Cerignola - Noci 85/6)
Cesena:
Historic Italian football club. Last 40 years almost always playing between serie A and B. In the 75/76 season they ended as number 6 in serie A and also played in UEFA cup.
Historic groups, still active and respected in all the nation, is WSB (Weiss Schwarz Brigaden) founded in '81,a nother important is Viking, founded in 86.
Friendship with Brescia, Mantova and Palermo in Italy. They have also friendship with Saint-etienne (only MF91), Stuttgart and Osasuna.
Biggest enemy is Bologna, because of historic rivalry between Emilia and Romagna regions.
Other rivals are Forli' (local derby), Ravenna, Modena, Verona and Milan.
WSB are apolitical but many right-wing between Viking.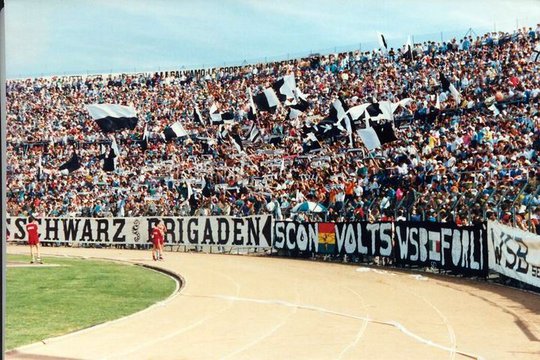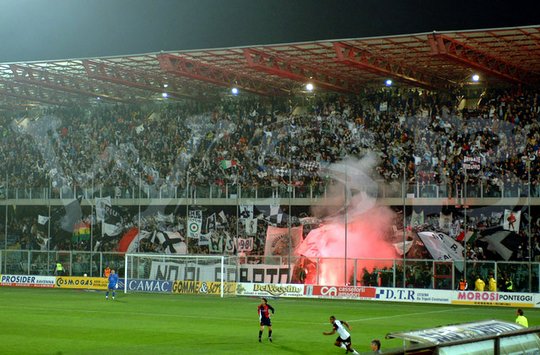 (Cesena - Crotone 05/06)
Chieti:
City near Pescara, always playing in 3rd and 4th division, where they are now.
There were many groups in the 80's. One of the most important was Achean Generation and Ultras Irriducibili (founded in 1989).
Friendship with L'aquila, Arezzo, Termoli and Monopoli.
Local derby against Pescara, Lanciano, Teramo and Giulianova. Big enemies outside region are Ascoli, Perugia and Taranto.
More right-wing for sure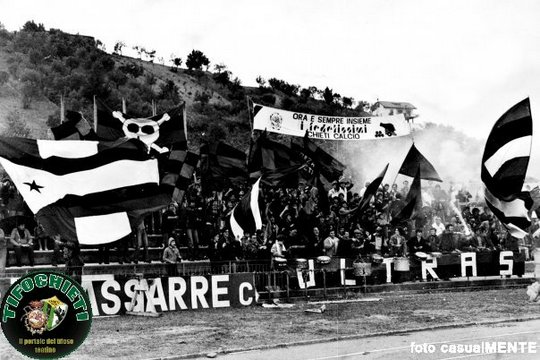 (Photo from match in 78/79)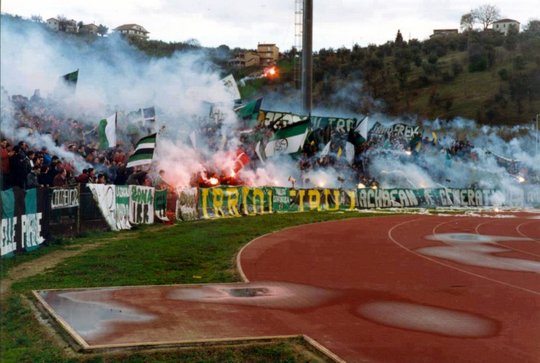 Civitanoves:
City in Marche region (where almost every small town have an ultras Group). Their best period was in the 80's when club played in 3rd and 4th divisions. Now they are in the 5th.
Historic group is Brigate, born in '84 and still active.
Friendship with Sambenedettese and Rimini, also recently with Bayern München and Sankt Pauli.
Local derby against Maceratese and Jesina. Big match against Pesaro, Fano, ecc
Left-wing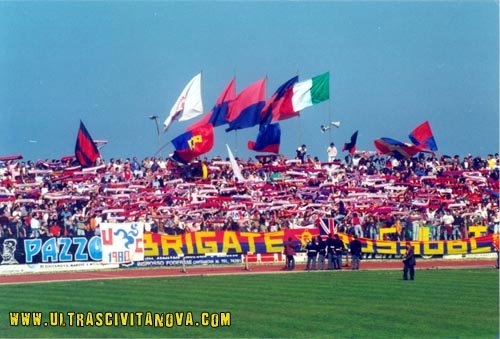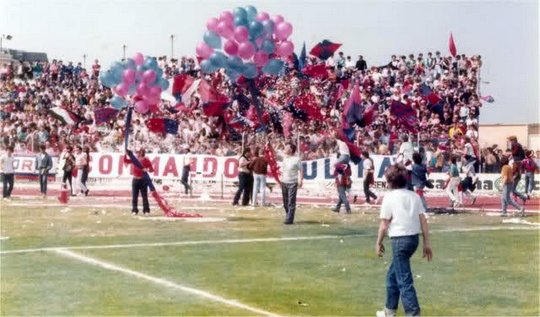 (Civitanovese - Brindisi 82/83)
Como:
City near boarder of Switzerland. Historic club that played many times in serie A and B, last time in 2003. After a failure in 2004 they restart from 5th level, but came back soon in 3rd division where they are playing now.
Historic groups were Fossa Lariana and Panthers, but last 10 years they haven't had a real group. Adopted an English style with many flags on the fence like Verona did.
They have no more friendship since this year they broke with Vicenza. Good realtion with Virage Sud Lyon (France).
Local derbies against Varese and Lecco, also rivals are Inter, Atalanta, Modena, Piacenza, ecc
More right-wing, like all the groups in this area.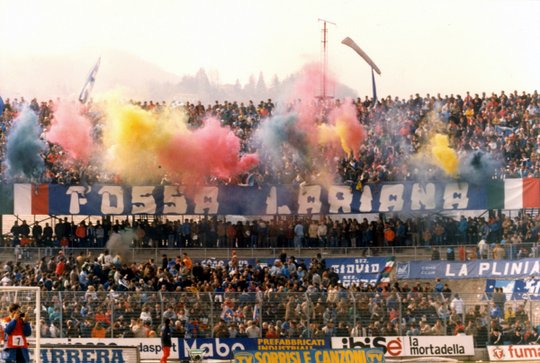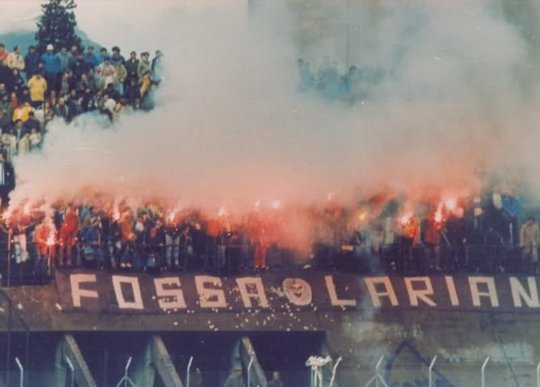 (Como - Monza 82/83)
Cosenza:
City in South Italy, between '88 and 2003 they played in serie B, after that they failed three times and are now in 4th division.
Historic and very respected group was Nuclei Sconvolti, founded in '83 and disbanded in '99.
Friendship with Venezia, Casertana and good relation with Ancona, Ternana, Atalanta, Toulon, ecc
Big and historic local derby against Catanzaro, also recently with Reggina.
Outside region rivals are Lecce, Taranto, Bari, Salernitana, Verona, Pescara and Brescia.
Left-wing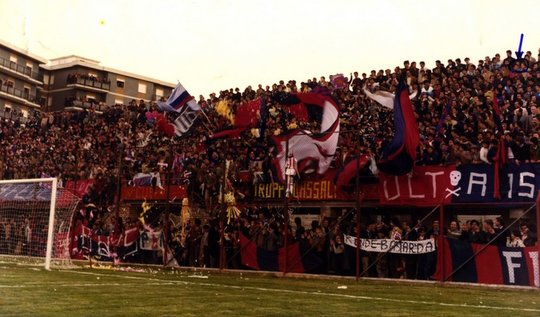 Cremonese:
City in North Italy, they played in serie A some seasons in the 90's, now they are in 3rd division.
Historic groups: Red Grey Supporters, CUCS, Longobards and Sanitarium.
Friendship with Vicenza, Reggiana and Ravenna.
Local derby against Piacenza and Pergocrema.


(Cremonese - Palermo 83/4)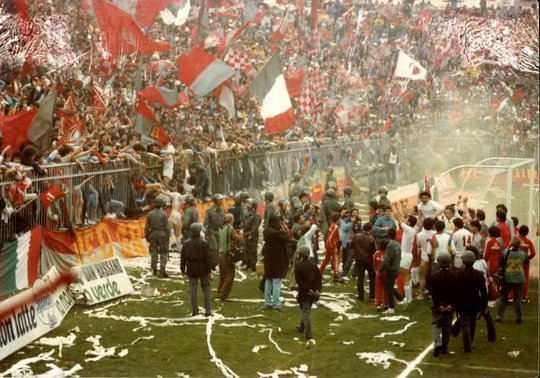 (Cremonese - Como 82/83)

Crotone:
Small city in South Italy, this club was almost nothing before the year 2000 when they came in serie B where they also play now.
Historic groups were Gioventu' Pitagoriga and Teddy boys.
Friendship with Catania and Cosenza.
Local derbies with Reggina and Catanzaro.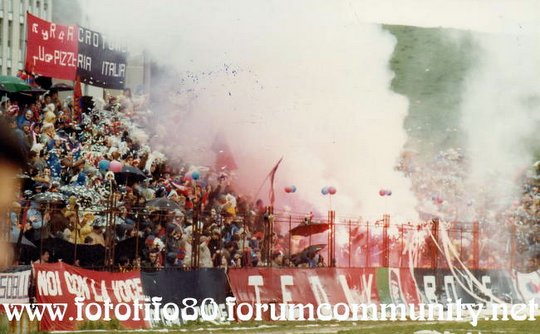 (Crotone - Nardo 83/84)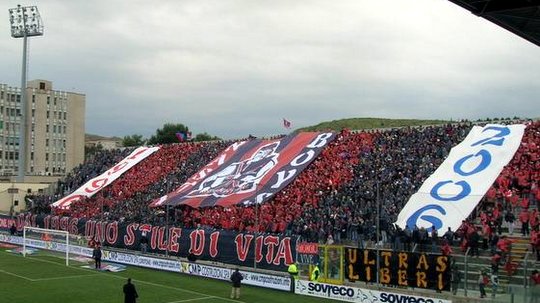 Click here for clubs starting with: A, B,
Best way to ask questions is in this topic (Click here)