Ultras all over the world, let's show unity!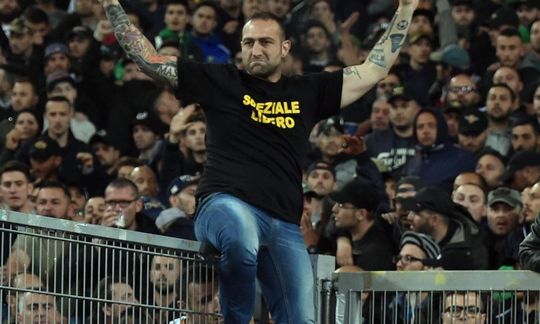 Genny la Carogna, Napoli capo, got banned for 5 years from Italian stadiums because of wearing "Speziale Libero" t-shirt on cup final match vs Fiorentina in Rome last Saturday.

There was clashes before match in town between Napoli, police, Roma and Fiorentina fans. In the first incident Napoli fans was attacked by guns (Roma). When Napoli fans on stadium heard the news they didn't want that match to start before they had confirmed condition of their friends. Rumors said one fan had died, luckily that wasn't correct.
Genny, capo for Napoli fans, talked with players and authorities wearing a t-shirt "Spezialo libero". Match was postponed for 45 minutes and then continued.

Spezialo is a Catania fan who got sentenced 8 years in prison for killing policeman Filippo Raciti in 2007 during riots before the derby Catania vs Palermo. He was accused of throwing a block of concrete which killed a police officer. Libero simply means freedom.

Spezialo claims that he's innocent, and his lawyers are still fighting to prove that.

There is no real evidence against Spezialo, many fans in Italy believe that Filippo Raciti was killed by police defender.

However, wearing t-shirt "Speziale libero" is not provocation to family of death policeman and fans shouldn't be banned for wearing it. It's just asking for justice and fair trail.

Also, in November 2012 player of Cosezna got banned for 3 years from football also for wearing t-shirt "Spezialo innocente". More about it HERE.


Ultras, let's show solidarity with ultras in Italy by showing message "SPEZIALE LIBERO" on stadiums all around the world!
UNITED WE STAND, DIVIDED WE FALL!
Topic in forum, where you can post your pictures: http://z6.invisionfree.com/UltrasTifosi/index.php?showtopic=29619