Photos and info about Brazilian clubs from A-Z.
Photos and info about Brazilian clubs from A-Z.
In this article we write about clubs starting with letters E and F.
Click here for clubs starting with letter A, B, C and D.
Estrela do Norte
Small club from Cachoeiro de Itapemirim, Espírito Santo. Best achievement is a state league in 2014.
Estrela has 2 groups, Torcida Jovem Estrela and Torcida Máfia Estrelense.
Friendship with Americano and Sport (only Jovem Estrela and Gang da Ilha, small Sport group).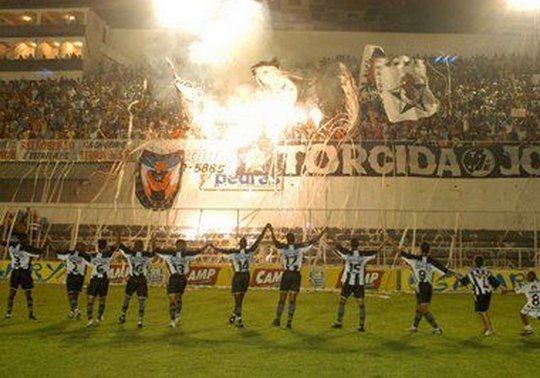 Ferroviária
Small but traditional club from Araraquara, São Paulo. Best achievement is 3 times Série A2 state champion.
Support is interesting. Main group is Torcida Afeganistão, founded in 2009.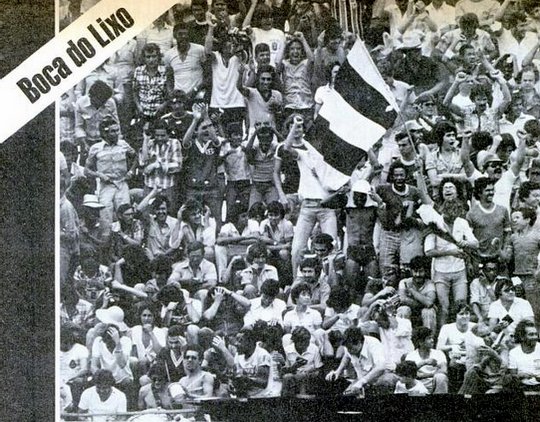 Ferroviário
Small club from Fortaleza, Ceará. Best achievement is 9 times winner of state league.
Rivalry with the two traditional clubs from Fortaleza (Fortaleza EC and Ceará) but not so much because Ferroviário don't have the same importance than the other 2 of the city.

Main group is Falange Coral but there is a left-wing group (rare thing in Brazil, a group with political view) called Ultras Resistência Coral, but they aren't a regular Torcida like the others, they call themselves an ultra group, not Torcida Organizada.
Friendship with São José (from Rio Grande do Sul) and Campinense.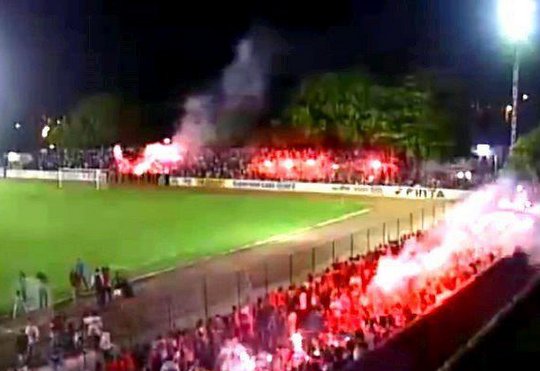 Figueirense
Traditional club from Florianópolis, Santa Catarina. Best performance was a runner-up in the Brazilian Cup in 2007.
Main group is Gaviões Alvinegros, founded in 1991.
Good contacts with Corinthians and Santos, friendships with Vila Nova, Remo and Sport (only with Gang da Ilha).
Local derby with Avaí, rivalry with Joinville, Criciúma, Chapecoense and the 2 clubs from Porto Alegre, Grêmio and Internacional.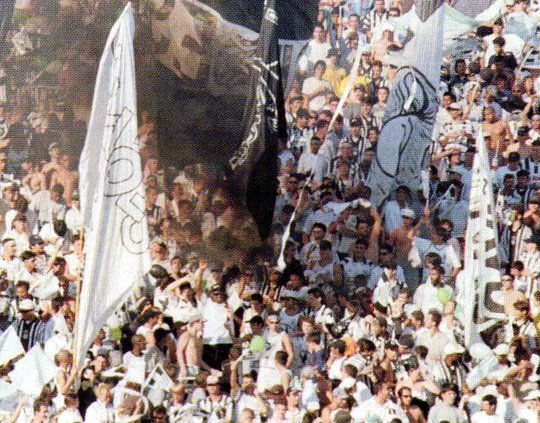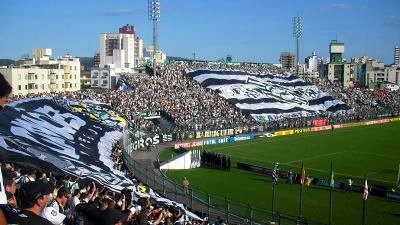 Flamengo

From Rio de Janeiro city, Rio de Janeiro state. 6 times Brazilian champion, 3 times Brazil Cup champion, 1 Libertadores Cup and 1 time world champion, never been relegated.
The club with the biggest number of fans in Brazil, and in the world. Also one of the most hated in the country.

Flamengo has played 103 times for more than 100,000 fans at the Maracana. It has also brought 40,000 fans to Sao Paulo to see the final of the Brazilian championship against Santos in 1983. Traditionally with amazing support, tifos, etc.

When consider number of member, one of the main groups is Raça Rubro-Negra, founded in 1977. But you also have Torcida Jovem (also know as Jovem Fla), founded in 1967, that has the same importance at the club as Raça.
Jovem is a kind of hooligan group, one of the best about fights in the country. Raça and Jovem have fought each other several times. Flamengo also have other big groups such as Urubuzada, Nação 12 (barra brava), Fla-Manguaça, etc.

Local and main Rio derby with Vasco. Big rivalry with the two other clubs from Rio, Fluminense and Botafogo. Strong hate against Atlético Mineiro and Palmeiras.
About friendship, it depends on the group:
Raça - Torcida Jovem da Ponte (Ponte Preta) and Os Imbatíveis (Vitória);
Jovem Fla: Torcida Independente (São Paulo), Camisa 12 (Internacional), Torcida Jovem (Sport) and Pavilhão Independente (Cruzeiro).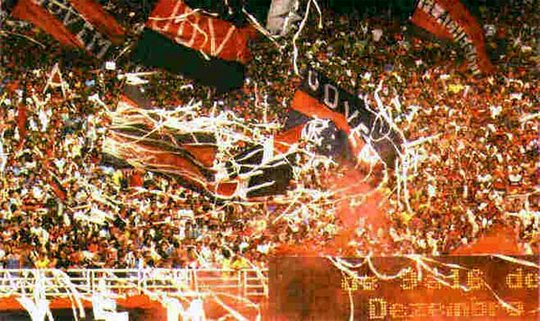 Fluminense

From Rio de Janeiro city, Rio de Janeiro state. 4 times Brazilian champion, 2 times Brazil Cup champion and runner-up of the Libertadores in 2008.

Some say they got the best visual fans in Brazil. They became internationally known when they created their

, which originally Gate 13 in Greece started.

Main group is Young Flu, founded in 1970, and there are another groups like Força Flu (in the past known by their tradition on fights), Bravo 52 (barra brava), Garra Tricolor, Fiel Tricolor, etc.

Main derby with Flamengo, big rivalry with Vasco (growing in the recent years) and Botafogo. Bad relationships with Coritiba, Atlético Paranaense and Cruzeiro.

Friendship with Guarani, América de Natal, Vélez Sarsfield (Argentina) and Santos (only Força Flu and Sangue Jovem).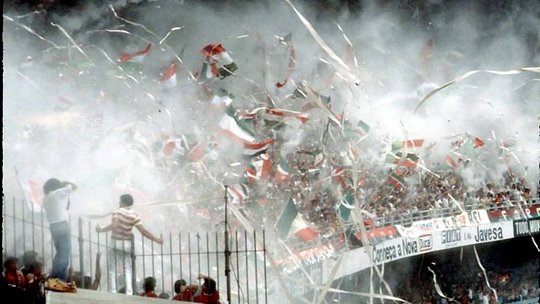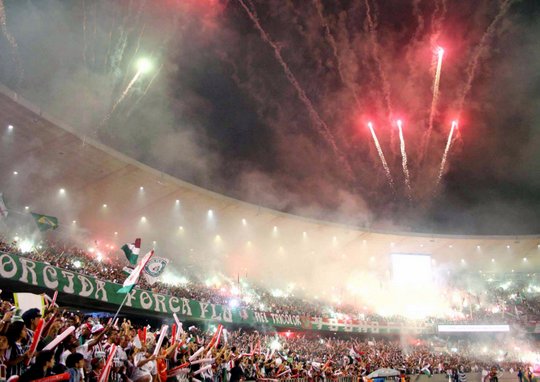 Fortaleza
Traditional club from Fortaleza, Ceará. Best performance is 2 times runner-up of Brazilian league,1960 and 1968. Nowadays plays in the Série C.
Amazing support, attendance and tifos, even in the lower divisions.
Main groups are Leões da TUF, founded in 1991, and Jovem Garra Tricolor, founded in 1996. On last round of Brazilian league´05, one of the most respected Leões da TUF members (or the most respected), Marcionílio Pinheiro, was killed in Rio de Janeiro, after the match Botafogo x Fortaleza, by some lads from Fúria Jovem Botafogo on ambush. Marcionílio is always remembered by TUF lads.

Local derby with Ceará, big hate against Paysandu, Botafogo, Sport and ABC, also rivalry with Atlético Mineiro and Coritiba.
Strong friendship with Remo, América de Natal, Cruzeiro, Atlético Paranaense and Brasiliense.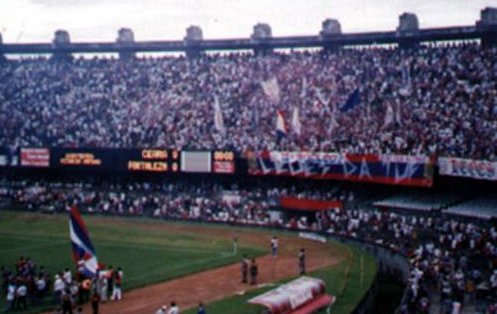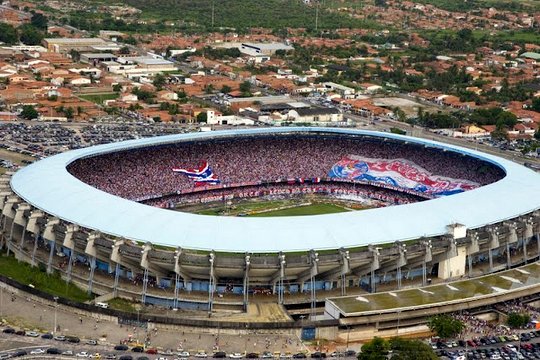 Friburguense
Small club from Nova Friburgo, Rio de Janeiro. Not a notable club.
Main group is Torcida Ultras Facção Jovem Tricolor.
Friends with Americano, Duque de Caxias, Olaria, Macaé and Bangu.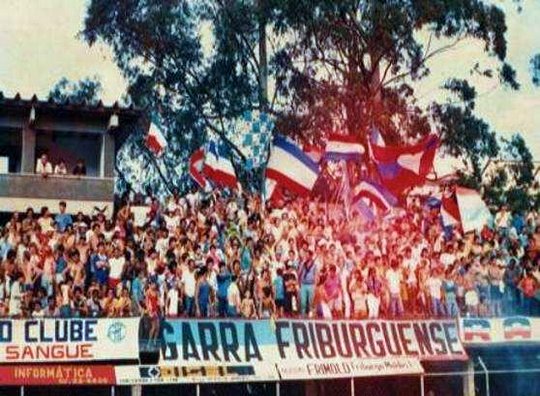 For any questions, the best is to visit our forum and talk directly with our Brazilian football supporters.