Best worldwide TIFO actions during 2013.
Best worldwide TIFO actions during 2013.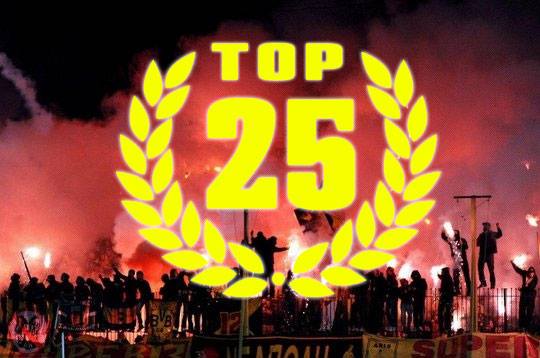 With more than 800 articles published on Ultras-Tifo.net last year we tried to choose the 25 best TIFO actions.
What we looked for is originality, hard work and the final result inside stadium.
It was really difficult to choose only 25 actions, many groups really did a good job last year!
Everyday we will add two new TIFO actions to the list until we have 25 actions published, you can follow this via our Facebook fan page.
We will not decide which of the 25 actions is best, the list will be published based on the date match was played (January -> December).
When the Top 25 list is complete we will create a poll and let YOU vote for what you mean is the best TIFO action during 2013.
Top 25 TIFO actions in 2013 (25 published so far):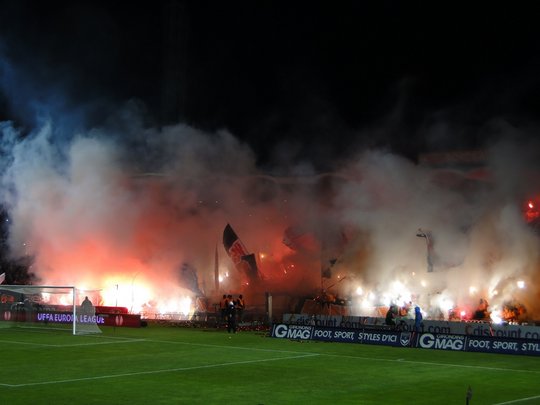 Eintracht Frankfurt (Germany) with probably the best fan invasion during 2013.
Beside of the huge number of fans they brought to France, all fans wore orange clothes which normally isn't their club colour (old school style for this match).
Match started with huge pyro show and few streamers. Pyro was used many times during match as well.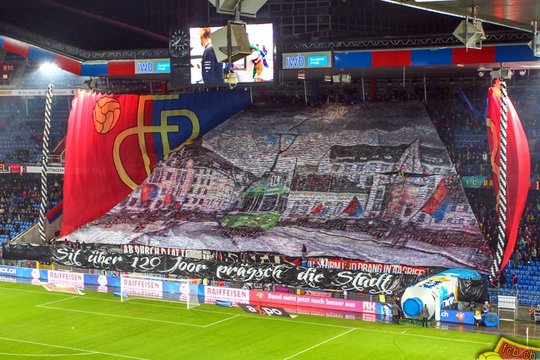 FC Basel (Switzerland) 120th anniversary celebration!
The main banner is made with many hundreds smaller photographs of Basel, all of them mixed together to create one picture of the city, tram and fans.
At the beginning of this season fans started to collect photos from the last 120 years of FC Basel to make this big banner. Many hours spent making this very advacned choreography!
When the main banner is removed a strobo show start (flashing pyro) together with flags.. Firework behind the stand as well.
During match few smaller banners was displayed and much pyro used.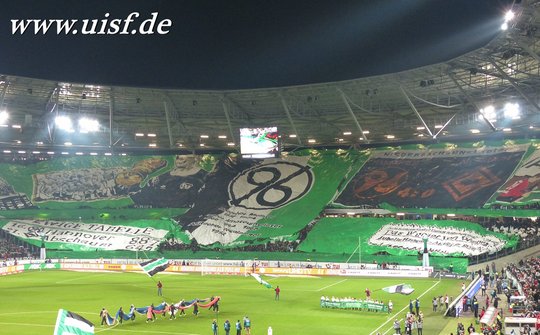 Good show by Hannover (Germany) supporters!
First green, white and black flags, then many huge banners was unfolded in the supporter stand.
During match fans wore green, white and black ponchos. One big pyro show with green flares as well.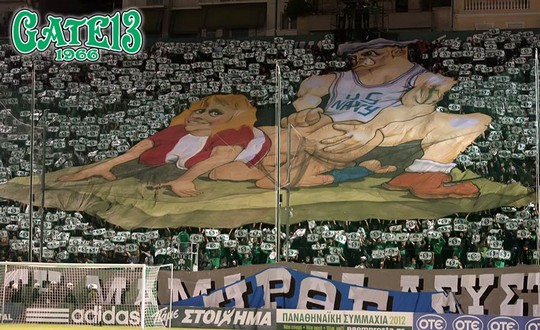 This show from Panathinaikos (Greece) was one of our most popular reports last year.
Two choreographies, burning of enemy flags, "green" flare show and in the end green smoke show.
Check article and find out way this was popular last year.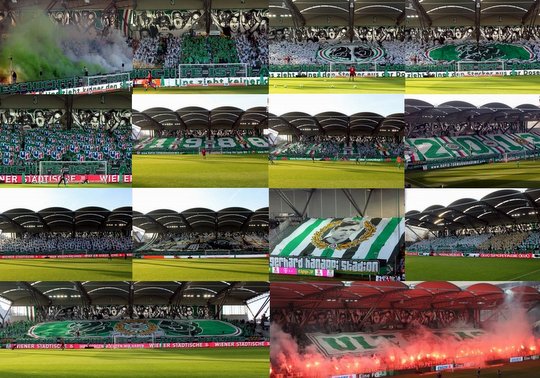 Rapid Wien (Austria), probably the match with most different choreographies in 2013.
This was celebration of Ultras Rapid 25th anniversary.
There is incredible many details. Well painted flags and banner, smoke, flares and more. We counted 14 different choreographies!
Visit article and see more.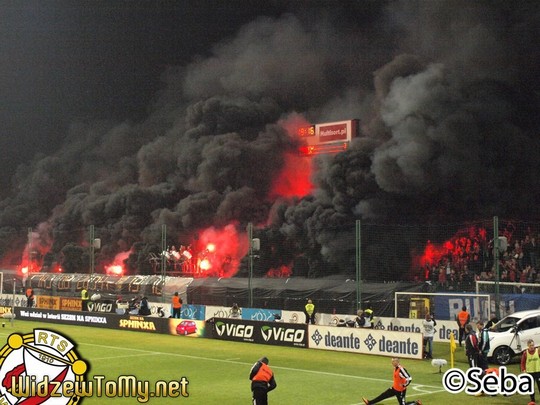 This match got famous because of the massive black smoke from Widzew Lodz (Poland).
But fans had more TIFO during the match on two sides of the stadium.
One side with banner and pyro, the other side with banners, tripes and this "black" pyro show.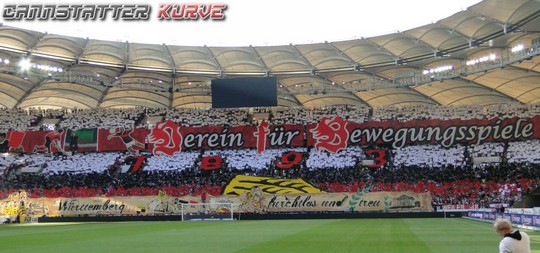 120th anniversary of VfB Stuttgart (Germany)!
First choreography is really advanced, especially the banner between upper and lower section, as well as the one in front of the stand.
After a few minutes they change to a new choreography included new banners. Both choreo's looks perfect!
Crvena Zvezda (Serbia) fans celebrating the 50th anniversary of "Marakana" stadium.
First big flags in whole North stand and lot of pyro for many minutes. After a while smoke bombs around the whole stadium as well.
In second half smaller flags in North stand and a well painted banner of the stadium, followed by lot of pyro.
In the end of the match fans formed the name "Delije" with the small flags. People standing on white seats held their flags up (it's written "Delije" on the stand by red and white seats). This is like 90 minutes with TIFO!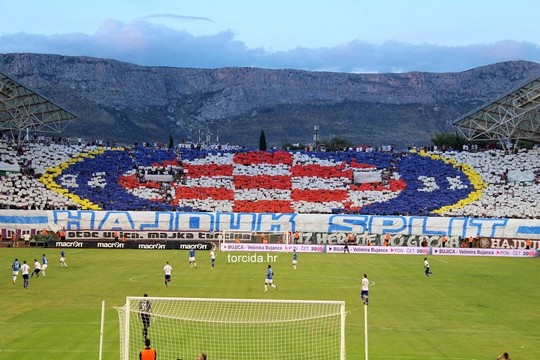 Another good season from Torcida, supporters of Hajduk Split (Croatia).
You might remember the match when they united together with main rival Dinamo against "Football mafia".
Definitely one of the best Ultras actions this year, but this "top 25" list is for best TIFO action (choreo, pyro, flags, banners).
Instead we added this match from September. First choreo with Hajduk Split logo, followed by choreo with "You make me crazy" banner. Little bit later orange smoke and in the end big pyro show after one goal.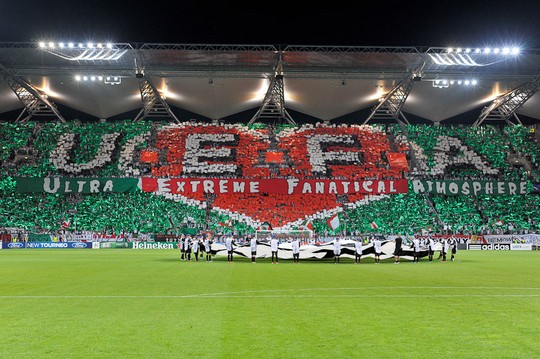 Because of some flags on previous matches UEFA closed Legia ultras tribune. But ultras just moved to opposite tribune and prepared fantastic show for Uefa.
"Love UEFA" choreography followed by a massive pyro show! Fantastic answer to UEFA for closing their ultras section.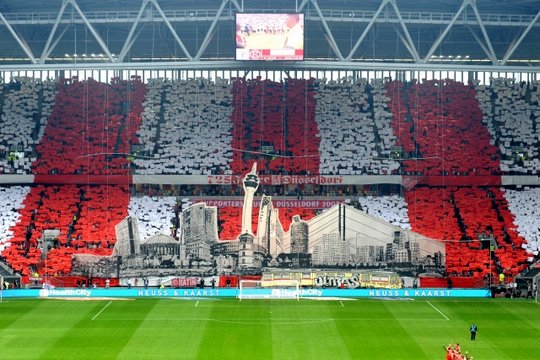 With help of ropes connected to the roof Fortuna (Germany) supporters raised up a very advanced banner of their city. From the right side they moved in a banner painted as a train wagon. When it stopped behind the goal two lads started to make graffiti on the wagon. After that the wagon continued out on the left side.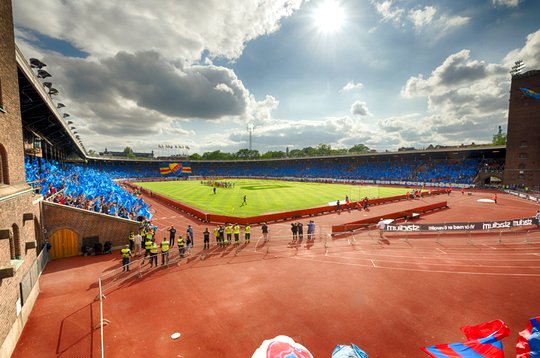 Last match for Djurgården IF (Sweden) in their old Stockholms Stadion.
Corteo to match. First yellow card display all around stadium, then they changed to red card display and in the end blue flags all around stadium. Main banners also changed together with the choreo.
In second half pyro show around whole stadium.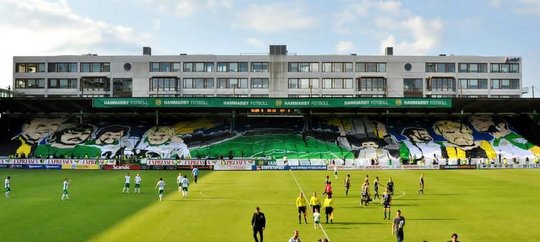 Last match for Hammarby (Sweden) on famous Söderstadion.
First they showed one picture made by stripes, and right after another picture made by stripes. This is really difficult to coordinate perfect, especially with painting like this, but Hammarby managed to do it!
In second half they displayed banners about their stadium, followed by green smoke, strobos and green/white flares.
Later in second half new pyro show, this time red flares.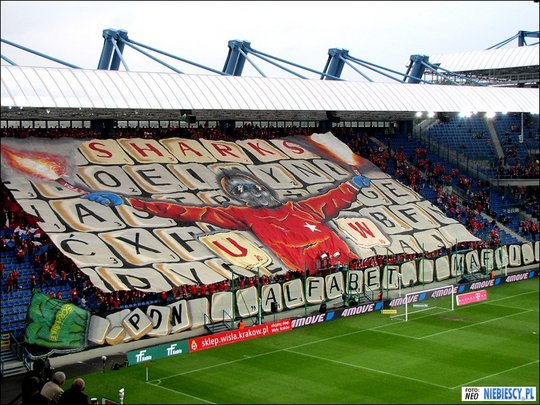 Wisla Krakow from Poland.
Very good looking main banner and front banner had the same style.
When the main banner went down fans started a huge pyro show, after that they raised the banner and when they took it down again they had a choreo with flags prepared.
3 nice TIFO actions in just a few minutes!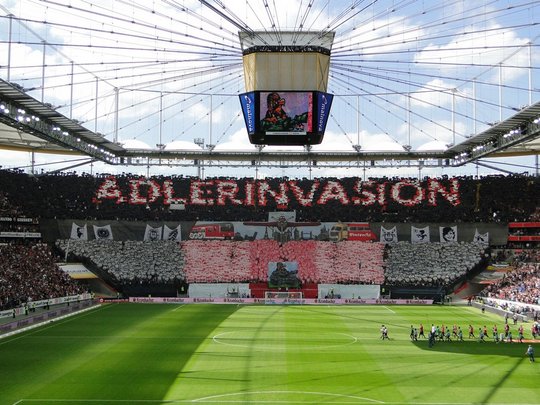 Fantastic year by Eintracht Frankfurt (Germany) supporters, especially their performance in Europa League.
In this German league match they displayed a great choreography. Upper section is a card display, in the middle many small well made banner and lower section it is two-stick flags! Click on the link and watch videos from this show to see it all.
One of many very good shows made by Legia Warszawa (Poland) supporters.
First card display in 3 stands, most advanced in the main stand where a banner separating the upper section and lower section is made as a card display as well.
Later a huge good looking banner is unfolded in the main stand, just to make this match perfect.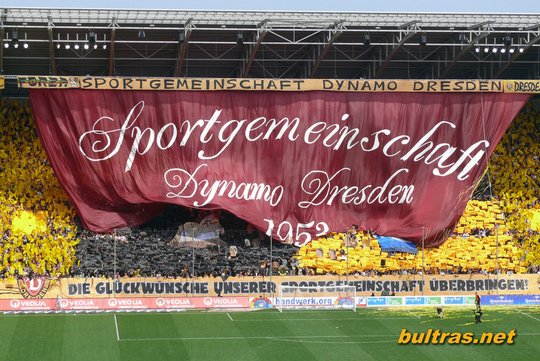 Dynamo Dresden (Germany) 60th anniversary.
Black and yellow flags all around the stadium. Many banners and advanced choreography in main stand.
Click on link and watch the videos, this is a very well made TIFO show!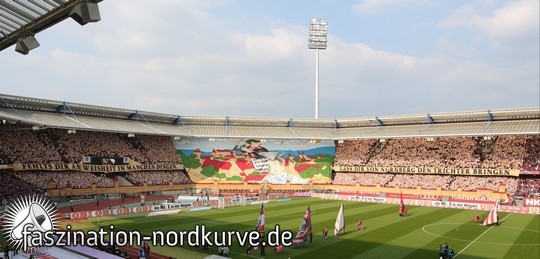 German ultras are well know for making great chores and this from Nurnberg is one of them. Great painting, cards ans message. Perfect German style.
You need to pay attention to the small details here. The cards fans hold up, the main banner, the banner in front of stand which is painted as a fortress and the speech bubble that suddenly appear in middle of the main banner. Very good!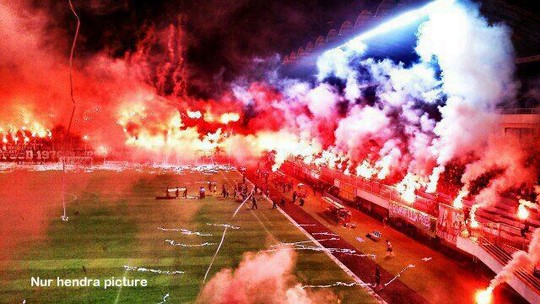 Not many people know about scene in Indonesia, but local supporters in last few years there are doing very good job. Good example is Brigate Curva Sud (PSS Sleman) with this match. They start with throwing streamers followed by a huge pyro show around the whole stadium. Later very advanced card display (see video in article) and before final whistle they have one more big pyro show!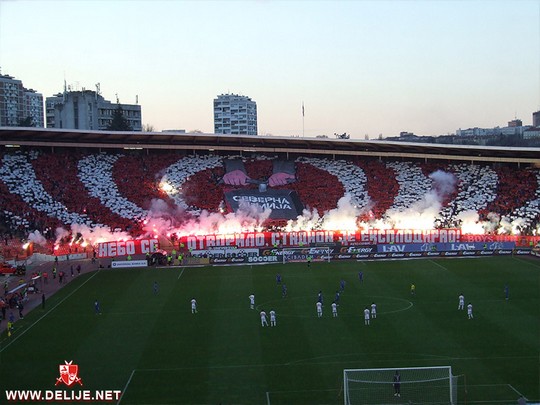 One of many fantastic shows from Delije last year, fans of Crvena Zvezda (Serbia).
Perhaps this wasn't their most advanced show last year, neither craziest pyro show, but the result of the idea, choreo and pyro is just perfect.
The banner say: "NORTH ARMY - The sky has opened, stadium exploded!"
When second half is about to start Delije start with countdown and suddenly there is flares and strobos all around the pitch.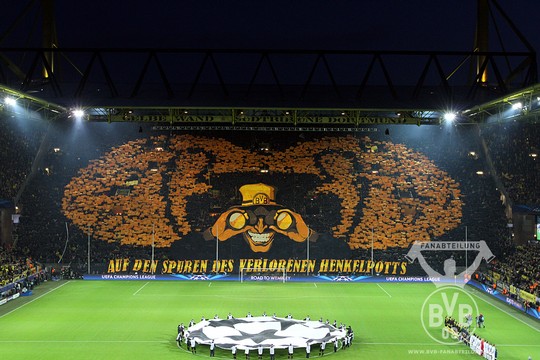 Borussia Dortmund (Germany) in Champions League. This choreography is really huge and it looks very good.
When the banner with binoculars are lifted part of the card display behind change to a "trophy". This little detail make this choreo perfect together with well painted banner.
Text: "Looking out for the lost Cup"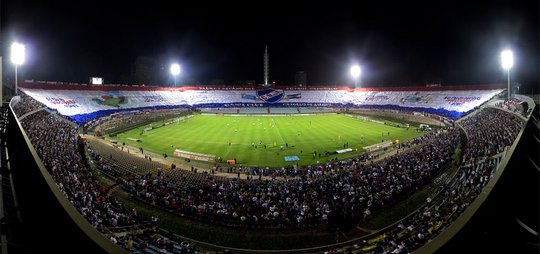 Supporters of Nacional (Uruguay) with record: The largest banner ever unfurled at a football match!
600 x 50 meters (30 000 square meters), made by supporters. It's not even big, but it's also very well decorated with paintings.
Ferencvaros' (Hungary) last derby in legendary Albert Flórián stadium.
Card display on all 4 tribunes and banner in front of every stand. Not the most difficult card display, but it turned out to look very good. Later big pyro show!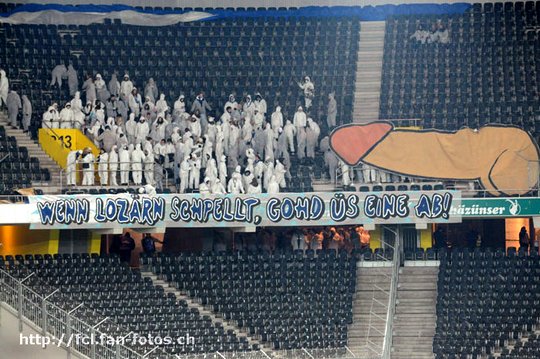 "When Luzern play, we jerk off!"
Luzern (Switzerland) supporters with originality and creativity at it's best!
It makes it even better as this was away trip for them. Bonus with pyro show.
During whole 2013 Luzern fans showed us many quality TIFO shows.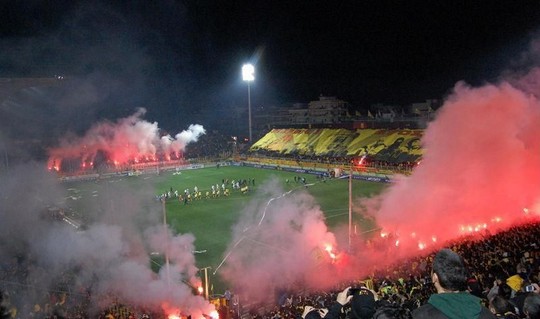 First out among the 25 best actions is Aris (Greece).
Huge banner covering the long stand with a good painting, much effort is needed to make something like this. The pyro show on two sides is very good as well with combination of flares, strobos, smoke grenades and rockets.
Two times during match fans ignited even more pyro.
Visit our forum if you want to discuss this list.